Share the View
Farewell to the Chief
A daily digest of opinions and analysis from Bloomberg View.
by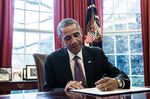 Our Columnists Assess Obama's Presidency
President Obama said farewell to the nation on Tuesday night. Nineteen columnists for Bloomberg View marked the highlights and lowlights of his eight years.
Advice, Consent, Etc.
The next president's nominees are parading through a confirmation process this week that Jonathan Bernstein assures us is not as pointless as it looks. (Advice matters, right? So says Tim Weiner, chronicling a history of unpopular input from the CIA.)
High Inflation and Low Rates
It's a recipe for pain for Germany's many savers. And, Leonid Bershidsky points out, that spells trouble for Chancellor Angela Merkel.
The Long Arm of U.S. Law
When you're in Asia look behind you, because that's where the marshal's gonna be. Noah Feldman sees a new application of the Commerce Clause as ... ambitious.
Ritholtz's Reads
 (Read Barry Ritholtz's full news roundup.)
Bloomberg Gadfly
 (Read more from BV's sister site for fast business commentary.)
Get Share the View every morning in your inbox. Subscribe here.
To contact the author of this story:

Before it's here, it's on the Bloomberg Terminal.
LEARN MORE