Economy
False Dawn in America
Investors' optimism looks to be misplaced.
by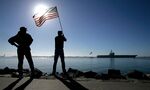 Markets are expecting big things from a Donald Trump presidency, at least as judged by long-term U.S. interest rates. After Trump's election in November, 10-year and 30-year rates peaked at above 2.6 percent and 3 percent respectively, increases of around 75 basis points. Emerging market rates have risen by similar amounts. (European and Japanese increases have been more modest, primarily due to continued aggressive purchases by the European Central Bank and Bank of Japan.) While rates have retreated somewhat, they remain well above lows of 2016.
This should be good news. Higher rates suggest that investors see stronger growth and healthy inflation -- due to a tight labor market, wage pressures and higher commodity, especially oil, prices -- ahead. The problem is, those same rising rates are likely to derail any recovery before it occurs.
QuickTake The Fed Lifts Off, Barely
Most obviously, higher rates pose a problem for bondholders: Globally, a 1 percent rise in rates would result in mark-to-market losses on existing holdings of bonds of $2 trillion to $3 trillion. Such an increase would also punish borrowers; given high U.S. leverage -- around 250 percent of GDP -- a 1 percent rise in interest rates would require a 2.5 percent rise in incomes to meet existing debt commitments.
Hopes for a large-scale spending binge on infrastructure could be dashed as well. Over time, 1 percent rise in long-term rates would increase the interest bill on $20 trillion of U.S. government debt by $200 billion. That's nearly half the current projected 2017 federal budget deficit of $441 billion. Finding the money for roads and bridges could soon get more expensive and harder.
So could the challenge of reviving U.S. manufacturing -- a promise that was key to Trump's victory. Since the election, the U.S. dollar has risen by around 6 percent against the euro and 12 percent against the yen. A stronger dollar damages the competitiveness of U.S. exporters and raises the costs of bringing manufacturing back onshore. A 10 percent rise in the dollar increases the U.S. trade deficit by around 1 percent and decreases growth by between 0.2 percent and 0.5 percent.
Perhaps most dangerously, higher rates could set off financial market instability. Global bank shares have risen by more than 20 percent since Trump's victory; U.S. bank stocks have gained between 40 percent and 70 percent. This reflects many things -- the hope that large litigation-related losses are over, confidence that returns on equity are improving and an expectation that regulations will be lightened under a Trump administration. Higher rates have added to the optimism, with analysts arguing that banks will soon be able to increase lending rates more than deposit rates, improving margins.
This ignores competition between banks, however, not to mention weak loan demand. It also overlooks new liquidity regulations that require banks to fund their loan books with customer deposits. Faced with the need to bid aggressively to maintain such deposits, banks are going to have to raise deposit as well as lending rates, shrinking margins.
Banks are also more vulnerable than their inflated valuations might imply. They're large holders of government securities: U.S. commercial banks alone hold nearly $2.5 trillion in Treasuries, agencies and other non-mortgage-backed securities. While higher rates may improve future earnings as maturities are reinvested at higher rates, in the short term, banks face significant mark-to-market losses on existing holdings. The post-election increases in interest rates have already led to large losses, reversing an over $30 billion gain to a loss of around $14 billion on their holdings of bonds.
Banks, too, will suffer if higher rates spur a wave of corporate defaults. The increase in corporate indebtedness combined with rising leverage and deteriorating interest and debt coverage can easily become unmanageable at higher interest rates.
Emerging market borrowers owe around a third of the nearly $10 trillion in non-financial debt outside the U.S., much of it in dollars. Chinese corporations are estimated to have borrowed over $1 trillion in foreign currency debt, although they've been busily trying to pay down those loans as the yuan falls in value.
Higher U.S. rates will pressure all these borrowers. A stronger dollar will exacerbate the problem to the extent the debt is not hedged or covered by dollar revenues. As local currencies weaken, emerging market borrowers will need to divert a greater proportion of their cash flows to service these debts, increasing the risk of defaults.
Even where emerging market borrowers have borrowed in local currency, foreign investors hold a significant proportion of the debt. A stronger dollar may force investors to sell some of these holdings to contain losses, forcing up emerging-market borrowing costs and resulting in further devaluations.
Despite what some investors would like to believe, Trump hasn't ushered in a new "morning in America." In 1981, when Ronald Reagan took office, the economy was just coming out of recession, not growing on the back of extraordinary monetary accommodation. Interest rates were at record highs, not record lows. Debt levels were a quarter of current levels. Assets were undervalued instead trading at record values inflated by central bank policies. Today's optimism, given current conditions, looks much more likely to be a false dawn.
To contact the author of this story:
Satyajit Das at sdassydney@gmail.com
To contact the editor responsible for this story:
Nisid Hajari at nhajari@bloomberg.net
Before it's here, it's on the Bloomberg Terminal.
LEARN MORE