view
Three Themes for Democrats' Resistance
Public attention is a finite resource.
by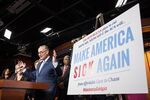 Democrats, weakened by November's election, are in many ways overmatched.
House Speaker Paul Ryan finally has the support he needs to enact his agenda, transferring trillions in national wealth from the less well off to the very richest, and dismantling the Affordable Care Act. The aggressive and highly skilled Republican Senate Leader Mitch McConnell has an untested adversary in Charles Schumer, who, though a canny politician, is new to the cat-herding job of Democratic leader.
And, of course, the Orwellian machinations of President-elect Donald Trump and his team pose an unprecedented challenge, one outside the ken of American political experience -- Democratic or otherwise.
What Democrats need is time to assess the altered landscape and adapt. What they are about to get is a blur of ferocious activity.
Senate hearings for eight nominees for Cabinet posts are scheduled to take place from Tuesday to Thursday (plus the nominee for CIA director). By my count, half a dozen in this week's nomination batch are rods poised to attract political lightning.
Republicans are both rushing the hearings and jamming them tightly together under the sensible theory that the news media and the public won't be able to keep track of a five-ring circus. To increase the degree of difficulty, Trump has scheduled a news conference -- astonishingly, his first since July 27 -- for Wednesday, Jan. 11, smack in the middle of the excitement.
If Trump doesn't abandon it, as he is wont to do, he can use his news conference to divert the focus from politically troublesome nominees.
Democrats can fight as many battles as they have the will to engage. But public attention is a finite resource; they will have to choose where to invest it.
Health care is the most obvious answer. The Affordable Care Act is the substantive and symbolic keystone of the Obama presidency. If Republicans wish to destroy it, Democrats must make the process as detailed, public, prolonged and excruciating as possible.
It's possible to gut Obamacare and leave the American health-care system, including insurance markets, hospital finances and access for millions of patients, a shambles. It's not possible, however, to achieve both Speaker Paul Ryan's goal of slashing health-care subsidies (and redirecting that money to the wealthy) and Trump's flighty campaign promise of health-care access that's a "terrific" replacement for Obamacare.
Because the law was polarizing and little understood, and included unpopular as well as popular provisions, Democrats were rarely full-throated champions. But with Republicans facing the prospect of squaring years of empty promises with a sudden demand for viable policy, the era of Democratic ambivalence is over.
A Jan. 3 memo from Democratic pollster Geoff Garin, based on a survey of 14 "battleground" states with 2018 Senate races, states: "The positions of Donald Trump and his appointees on healthcare issues are deeply at odds with the priorities of battleground state voters, and constitute the largest source of vulnerability for Trump and his Republican allies in Congress." 
When Representative Tom Price, Trump's nominee for secretary of Health and Human Services comes to Capitol Hill for a confirmation hearing next week, Democrats should be merciless in exposing the contradictions and false promises of Republicans on health care, and the uncertainty of Republican intentions on Medicare, a program that enjoys consistently strong support in polls.
Politically and substantively, this is a hill worth dying on.
Garin's poll, for the liberal Center for American Progress, points to another Republican vulnerability in the Trump era: corruption.
When asked to rate the importance of 13 potential priorities for the new president and Congress, voters in the Senate battleground states put an exceptionally high premium on "cleaning up corruption and financial conflicts of interest in the government" -- rating it only slightly behind "protecting Medicare for senior citizens," the number one item.
The battleground voters' acute sensitivity to corruption may be a result of Trump's promise to "drain the swamp" of Washington. It may also be based on voter recognition that Trump has an alarming disregard for ethical norms.
Democrats should establish early that Trump and his family represent an extraordinary and unprecedented corruption risk. Members of the clan appear to have multiple conflicts of interest already. The warnings should serve both as a deterrent to ethical short cuts by the First Family, and as the preface to a narrative that seems likely to grow lengthy and detailed.
The third area of concentration is Russia. As many have noticed, something is very peculiar about Trump's admiration for, and indulgence of the crimes of, Vladimir Putin. Trump still cannot bring himself to say what U.S. intelligence agencies have said unequivocally: Putin is diligently working to destabilize American, as well as European, democracy.
In Garin's battleground poll, 65 percent of voters agreed that "Russia under Vladimir Putin poses a significant danger to America's national security and interests," while only 27 percent supported the opposite view.
Rex Tillerson, Trump's nominee for secretary of State, received a Russian state award, the Order of Friendship, when he was CEO of Exxon Mobil Corp. His history and relationships in the country merit investigation, and he should be pressed repeatedly to disavow or support specific Trump statements on Russia, and to confirm or deny the existence of specific acts of aggression by Putin. There must be a clear record by the time Tillerson leaves the hearing.
Republican Senator John McCain has no desire to upend American policy toward Putin. When it comes to Russia, Democrats should simply back up McCain and his Republican colleague Lindsey Graham, who have taken the lead. Don't waste a sincere bipartisan effort to obtain the facts; there won't be many of them.
The targets presented by Trump and his nominees are numerous. Senator Jeff Sessions, Trump's nominee for attorney general, has a dubious record on voting rights and something of a cruel streak toward undocumented immigrants.
Democrats should confront Sessions. But they must be mindful of a painful reality: Americans knew in November that Trump did not respect voting rights or immigrants. They knew he trafficked in sexism and racial bigotry. It may take a turn of the political clock for such behavior to regain the power to shock.
Democratic voters will demand that senators convey their outrage (and pain) about racism, voter suppression and targeting long-resident undocumented immigrants, especially Dreamers, for deportation. And so they should. But if the goal is to blunt such actions, other battlegrounds may prove more consequential in the long run.
Health care, corruption and Russia are serious vulnerabilities for Trump. Given the danger that Trump poses to U.S. democracy, that's what Democrats should concentrate on. 
To contact the author of this story:
Francis Wilkinson at fwilkinson1@bloomberg.net
To contact the editor responsible for this story:
Katy Roberts at kroberts29@bloomberg.net
Before it's here, it's on the Bloomberg Terminal.
LEARN MORE