Share the View
A Better Language of Economics
A daily digest of opinions and analysis from Bloomberg View.
by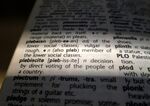 Five Economics Terms We Should All Use
The most popular econ words also tend to be the vaguest — take "efficient," which can signify two very different things, or "rational," which has at least three meanings. In the interest of clarity, Noah Smith offers five more-useful terms from the world of economics. (Endogeneity, anyone?)
Want More Productivity? Be Careful What You Wish For
A productivity revolution has already hit the world of illegal drugs, but while "business" is booming, more and more humans are suffering. Tyler Cowen sees a lesson: Sometimes, the biggest advances lead to more tragedy than comfort. 
The Philosophical Failures of Forecasting
No one can foretell the future, but some investors believe they can — and ironically enough, they make predictable mistakes. Barry Ritholtz offers an overview of the cognitive errors that leave us prey to financial soothsayers. 
Trump's Systematic Attack on U.S. Institutions
First he went after the media. Then, he targeted the Federal Reserve and the judiciary. Now, U.S. intelligence agencies are in Donald Trump's cross-hairs. What's next? Francis Wilkinson warns that the president-elect's all-out assault on institutions ultimately puts democracy at risk. 
Why Americans Long to Live in an HGTV Home
On a related note, Virginia Postrel sees a direct connection between the U.S.'s messy politics and the popularity of the home-improvement cable channel HGTV: It got more viewers than CNN (in an election year!) by depicting an uncynical world where everything that falls apart can be repaired.
Ritholtz's Reads
Lessons from a legendary short seller (CFA Institute)
How Amazon innovates in ways that Google and Apple can't (Vox)
Barclays considers Elon Musk a potential commodity "black swan" of 2017 (Alphaville)
(Read Barry Ritholtz's full news roundup.) 
Bloomberg Gadfly 
(Read more from BV's sister site for fast business commentary.)
Get Share the View every morning in your inbox. Subscribe here.
To contact the author of this story:

Before it's here, it's on the Bloomberg Terminal.
LEARN MORE