Share the View
In Defense of Year-End Predictions
A daily digest of opinions and analysis from Bloomberg View.
by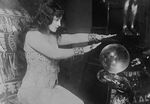 Why Predictions Matter (Even the Wrong Ones)
Three years after correctly — and, perhaps, accidentally — forecasting the results of the 2016 elections, Megan McArdle considers the value of making political predictions in a fundamentally unpredictable world.
The Fall, Rise, Fall and Rise of Stamford, Connecticut
Thirty percent of its commercial space is empty (including the world's largest trading floor) but apartments are still filling up in Connecticut's prototypical "edge city." Justin Fox mines Stamford's topsy-turvy history for lessons on how small northeastern cities can survive in the new economy. 
Trump's Stimulus Would Strain a Tight Job Market
With the U.S. unemployment rate at just 4.6 percent — already lower than the Federal Reserve's longer-run forecast — Conor Sen wonders: If the next administration creates new demand, will there be enough workers to capitalize on it?  
Think You Can Spot Fake News? Don't Be So Sure.
Socrates said, "I know that I know nothing." That's further than most people get. Faye Flam examines the cognitive blind spot that leaves even the most well-informed readers vulnerable to hoaxes. 
If We Knew What Things Cost, They Might Cost Less
Lack of price transparency for infrastructure, health care and money management helps explain why they're all so expensive. Noah Smith says the U.S. economy would benefit from a little sunshine.
Ritholtz's Reads
Ten economic questions for 2017 (Calculated Risk) 
Donald Trump's economic inheritance in seven charts (Financial Times)
Big growth in tiny businesses: U.S. companies that employ nobody but the owner soar (WSJ)
(Read Barry Ritholtz's full daily news roundup.)
Bloomberg Gadfly 
(Read more from BVs sister site for fast business commentary.)
Get Share the View every morning in your inbox. Subscribe here.
This column does not necessarily reflect the opinion of the editorial board or Bloomberg LP and its owners.