view
What's Ahead for China
A daily digest of opinions and analysis from Bloomberg View.
by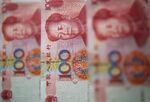 Bonds, Bubbles and Bad Data: A China-Watcher's Guide to 2017
Christopher Balding offers five key insights to help you understand China's economy in the coming year. (Hint: Watch for rising debt and potential price shocks.)
Donald Trump's Trade Chief Made a Rookie Mistake
Imports don't always hurt growth, and they often complement U.S. production. That's why trade restrictions can backfire. That may not be news to you, but Noah Smith says it seems to have eluded Peter Navarro, who's set to lead Trump's newly created national trade council. Uh-oh.
Immigrants Are the Only Hope for States That Voted Trump
Some "thank-you tour" it will turn out to be if Trump guarantees the doom of Pennsylvania, Wisconsin and other states — but as Conor Sen warns, the next president can restrict immigration or grow the economy, but not both. 
Scalia's Supreme-Court Legacy Looks Surprisingly Secure
When Antonin Scalia died in February, many thought his originalist constitutional approach died with him. What a difference 10 months make, Noah Feldman says: His influence now looks likely to last for decades. 
The Best Films of 2016 (For Behavioral Economists)
Cass Sunstein honors unrealistically optimistic star warriors, fairness-valuing jungle creatures, and lovebirds thinking counterfactually in this year's installment of the Behavioral Economics Oscars.
Ritholtz's Reads
Why time management is ruining our lives (The Guardian)
Everybody lies on social media: Just ask bankruptcy asset hunters (WSJ)
Trump's market-moving tweets are a scandal waiting to happen (Los Angeles Times)
(Read Barry Ritholtz's full daily news roundup.)
Bloomberg Gadfly 
(Read more from BVs sister site for fast business commentary.)
Get Share the View every morning in your inbox. Subscribe here.
To contact the author of this story:

Before it's here, it's on the Bloomberg Terminal.
LEARN MORE