Religion
Santa Is Worth Defending. Sign Me Up.
Myths aren't lies. This one teaches lessons that are important and true.
by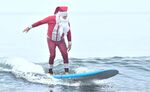 I always suspected that, for all the annual controversy, very few people really object when someone says "Merry Christmas!" to them. The firm Public Policy Polling has done the legwork to prove it: Only three percent of their respondents took offense at the greeting. Not many people are fighting in the war on Christmas.
There is still a war on Santa, however, even among people who celebrate Christmas. The jolly old elf's detractors would have you believe that he sits on a throne of lies. When your kids learn the truth, they say, they'll be disappointed, and less likely to believe anything else you say.
Less likely, too, to believe in Christianity, according to some of my fellow Christians: If your parents told you one comforting but improbable story when you were growing up, maybe they told you a lot of them. It's the kind of thought that from time to time leads preachers to lash out, seeking out kids to debunk the myth.
And if these sorts of considerations lead you to deny your kids Santa, I won't call you a Grinch. He wasn't part of my Christmases growing up -- not after an older brother found where the presents were being hidden and showed the rest of us -- and it's not a loss I feel keenly.
But as for the Ponnurus of Alexandria, Virginia: We are a pro-Santa family. The "sacred and benevolent burglary on Christmas Eve," as G.K. Chesterton called it, will take place in our house for as long as our children are open to it.
The main reason we side with Santa is that the kids love this part of the Christmas tradition almost as much as they love the presents. They like writing him a letter. They like setting out a cookie and some milk by the tree for the big night.
Sometimes, yes, it feels as though you have trapped yourself in a web of lies. A few years ago my wife and I were assembling some toy late on Christmas Eve when we heard two deer fighting in our backyard. I feared that the next morning I'd have to explain away a reindeer with a broken neck ("So Blitzen had a little accident ..."). Thankfully they unlocked horns and jumped over the fence.
But we also tell ourselves that Santa teaches our children lessons that are important and true: that they are loved and watched over by someone who knows their heart and wants them to be good; that their stockings are full of things they can have done nothing to deserve; that the world is a gift. There will be time, later, to use other methods to teach them all of what we mean. Santa will have prepared the way.
So, as the song says, "Let's give thanks to the Lord above, 'cause Santa Claus comes tonight!"
To contact the author of this story:
Ramesh Ponnuru at rponnuru@bloomberg.net
To contact the editor responsible for this story:
Jonathan Landman at jlandman4@bloomberg.net
Before it's here, it's on the Bloomberg Terminal.
LEARN MORE