view
Polish Protests Are a Warning to All Nationalists
A full takeover of power by a right-wing party is not feasible even after a convincing election win.
by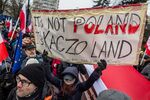 Last weekend's footage from Warsaw would have looked familiar to anyone who was in Kiev during Ukraine's "Revolution of Dignity." Protesters in the Polish capital also carried European Union flags, warmed themselves at bonfires and sang the national anthem. But this is not the end of Poland's right-wing nationalist government, despite its attempts to place Poland firmly in the emerging "illiberal democracy" camp.
The ruling Law and Justice party, known by its Polish acronym PiS, set off the latest crisis by announcing new rules for journalists who cover the parliament. It moved to restrict the number of parliamentary reporters to two per publication and to bar them from the parliament's main building. Starting next year, the reporters would be restricted to a separate media center, where lawmakers would come and talk to them -- meaning they wouldn't be able to choose whom to interview, or watch the parliament sessions or committee meetings live. 
After an opposition deputy stood up in parliament with a sign saying "Freedom of the Press" and the PiS speaker barred him from the session, other legislators from liberal opposition parties occupied the rostrum holding up similar signs. This was the first such strike-like action in Poland's post-Communist history, so the PiS majority and some populist legislators responded to it in similarly unorthodox fashion, moving to another space in the parliament building and promptly voting for two bills -- the 2017 budget without any of the hundreds of amendments proposed by the opposition and a pension cut for Communist-era security apparatchiks.
PiS is big on what it calls righting old wrongs and others see as attempts to rewrite history. For example, it wants to strip Poland's former Communist leader Wojciech Jaruzelski of his general's rank, posthumously. It has also tried to edit Lech Walesa, the union leader who led the toppling of communism in Poland, out of history textbooks. Since, unlike Jaruzelski, Walesa is alive, he has had some strong words for PiS, calling them "traitors" and the "students" of freedom-suppressing Communists.
Indeed, PiS, which holds the first outright parliamentary majority since Poland returned to democracy, has at times acted as if other parties didn't exist. A year ago it shook up Poland's constitutional tribunal, seizing control of the only branch of power to which its election victory didn't entitle it. Then, through some sweeping staff changes, it turned state television into its propaganda tool -- something that was obvious last weekend from the contemptuous coverage of the protests by the main public broadcaster, TVP. 
For the liberal parties, the PiS attempt to outflank them on the budget while they protested in the main parliament chamber crowned an awful year, and they refused to recognize the budget vote Polish President Andrzej Duda has promised. Some of their supporters were committed enough to spend the night in front of the parliament building, trying to block PiS lawmakers from leaving, clashing with police who tried to clear the way and then continuing the protests through the weekend. And yet this is not the kind of mass protest that forced the Communists to give up power after the 1989 election, nor even the kind that, last October, forced the government to give up plans for stricter abortion laws.
Many Poles are disappointed with what PiS has been doing since it came to power. Poland is a strongly pro-EU country, and its relatively recent experience with an illiberal regime was, if anything, more oppressive than that other eastern European countries, such as Hungary, the Czech Republic or Slovakia. So if a new election were held today, PiS wouldn't have won a majority again. Still, according to polls, it would be the biggest party, winning about a third or slightly more of the vote. The liberal parties wouldn't be able to form a coalition to overpower it; PiS is keeping many of its supporters by coming through on election promises such as increasing social payouts to families and reversing an increase in the retirement age, passed under the previous liberal government.
Eastern European countries such as Hungary and Poland are test cases for the rest of the Western world today. If nationalist forces come to power in older democracies, they can hold onto it if they get the economy under control, as Prime Minister Viktor Orban did in Hungary, and deliver some improvements for the poorer voters. PiS may not be as lucky. Economic growth has slowed in recent months, and the ruling party's abrasive relationship with the EU may contribute to further worsening: Poland, after all, is a major recipient of EU subsidies.
PiS leader Jaroslaw Kaczynski understands that. On Monday, the newspaper Rzeczpospolita quoted him as saying the government shouldn't focus "first on reforms aimed at the polonization of our economy and only then start to think of economic growth." He added, "Nobody will give us this economic growth, we must fight for it ourselves, we must have about 4 percent growth."
An economic slowdown would give a stronger boost to the opposition than PiS's contempt for journalists or its attempts to politicize history. For now, the nationalist government hasn't done enough to make Poles as angry as Ukrainians were three years ago. All nationalists, however, should watch the Polish events: Even if they win elections, they will not get a free ride. They will be watched, and there will be pushback. A complete takeover of power may not be easy even after the kind of convincing victory PiS won last year, and they will need to deliver on the economy to feel safe.
To contact the author of this story:
Leonid Bershidsky at lbershidsky@bloomberg.net
To contact the editor responsible for this story:
Therese Raphael at traphael4@bloomberg.net
Before it's here, it's on the Bloomberg Terminal.
LEARN MORE