Editorial Board
North Carolina Misunderstands Bipartisanship
State Republicans have shamefully acted to undermine the incoming Democratic governor.
by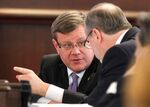 U.S. politics needs more bipartisanship, but not the kind Republicans in North Carolina have been practicing.
Less than two weeks after Republican Governor Pat McCrory finally conceded defeat to Democrat Roy Cooper, Republicans in control of the state legislature called a special session to promote what they described as bipartisanship in government. In fact, the bills they passed -- one of which McCrory signed into law Friday -- reflect partisanship at its most naked.
The new law eliminates future governors' authority to appoint a majority of members to the state election board, which in turn makes appointments to county election boards. Instead, the state board will be divided evenly between the two parties. It's a wonder this idea hadn't occurred to Republicans until now. In politics, nothing concentrates the mind like a defeat.
On the merits, this law is a dud. Election boards split between the two parties have a depressing track record of deadlock and failure; just look at the Federal Election Commission. Better to allow an executive to appoint most of the members and hold him or her accountable for the board's performance.
Yet this legislation cannot be judged on its merits alone. It is part of a broader package that strips future governors of authority. No longer will they appoint trustees to oversee the state's university system, or appoint their own cabinets without legislative approval. They will even have trouble hiring their own staffs. One bill extends civil service job protections -- the kind Republicans often criticize -- to more than 1,000 workers in the executive branch, many hired by McCrory. 
Each one of these is a bad idea. Together, they symbolize how hyper-partisanship undermines the honest administration of government.
McCrory might have salvaged what was left of his reputation by vetoing the bills. But his signature is a fitting capstone to his tenure in office. He lost the election in part because, after 15 years as a moderate mayor of Charlotte, he embraced the politics of division. Many national organizations are boycotting the state because of laws he signed prohibiting localities from passing anti-discrimination ordinances and enabling the use of bathrooms by transgender individuals. If the legislature were truly interested in bipartisanship, it would have put aside its partisan post-election strategy and instead worked to repeal those laws.
--Editors: Frank Barry, Mary Duenwald
To contact the senior editor responsible for Bloomberg View's editorials: David Shipley at davidshipley@bloomberg.net .
Before it's here, it's on the Bloomberg Terminal.
LEARN MORE