view
Diesel Scandal Hurt the Environment More Than VW
The German automaker is emerging stronger from its crisis, but regulators haven't drawn the right conclusions from it.
by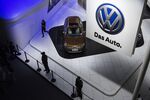 Whatever doesn't kill us, makes us stronger, the saying goes. Despite the dizzying costs of its emission cheating scandal, Volkswagen is beginning to regain some of its lost market share, and it's a more efficient company than before the crisis.
In another respect, however, the scandal has been  counterproductive. It may have started the demise of diesel cars and spurred the expansion of electric vehicles and hybrids, but it hasn't convinced governments -- as it should have -- that a carbon tax would work better than tough emission standards for cars.
In November, according to the European Automobile Manufacturers Association, VW's market share in Europe increased year-on-year for the first time since the September, 2015 scandal, growing to 24.8 percent from 24.6 percent a year ago. It has finally caught up with the entire European car market's growth, something it hasn't been able to do all year. It has lost 0.9 percentage point of market share in January through November, while remaining an undisputed European market leader.
The gains largely came from brands other than Volkswagen -- Audi, Skoda, SEAT and Porsche. SEAT, which increased sales 28.6 percent year-on-year in November, is a good example of how VW reversed its bad fortune: Most of the increase came from a sexy new small SUV called Ateca, the Spanish production unit's big bet as it returned to profitability. Platform-sharing among its different units and the freedom they enjoy in trying different designs and sets of features is still working for VW. Even as its headline brand has been seeing flat or declining sales, the foreign and luxury units have been compensating for it.
Volkswagen's large investment in China has also helped: It has been growing aggressively there since March, after a slight dip early in the year. Chinese consumers forgot about the scandal even before European ones did. They care little about U.S. emission standards; the Volkswagen Lavida sedan is the best-selling car in China this year. 
On a growing market, VW sales have been slightly down this year, to 159.9 billion euros ($166.6 billion) in the first three quarters from 160.2 billion euros in the same period of 2015, before the scandal. And yet it's a tiny decline that came with a sizeable profitability increase. In the third quarter of 2015, VW's revenue was comparable to the same quarter of this year, but the cost of that revenue was almost 5 billion euros higher. VW has also managed to cut administrative and marketing costs, while many expected aggressive discounts and an advertising offensive to whitewash the company's reputation. 
VW needed the increased efficiency because of mounting legal costs. The U.S. civil settlement is estimated to cost it $15.3 billion, and analysts expect a $3 billion settlement to close the company's U.S. criminal prosecution. European countries are still hoping to extract compensation from VW for selling cars with defeat devices that lowered nitrous oxide emissions on standard tests. To help offset these costs, VW has been stockpiling cash: It has about 5 billion euros more on hand than at the end of last year. But the cost savings won't go away after the company pays out the settlements. Since it hasn't lost too much ground to Toyota, its perennial rival, it can even resume the race for the top spot in global car sales.
Though VW executives have often appeared obstinate and unrepentant throughout the scandal, they have done a competent job negotiating the settlements, keeping them to a manageable size, and preparing the company for the financial shock. Any blow to VW's reputation is largely limited to the U.S., a relatively small and unimportant market for the company, and VW even managed to preserve its foothold there -- though it may not sell diesel cars in North America in the future.
One way in which the scandal has damaged VW and the entire European auto industry is by singling out diesel technology as risky to develop. Thanks to the VW scandal and heftier environmental regulations, UBS predicts diesel cars will "almost disappear" from the market in the next 10 years, so much of the multibillion-dollar investment in diesel engine development in Germany and France will be wasted. This is not what automakers expected after decades of diesel promotion by governments, especially the French one, as the more economical and environmentally friendly technology.
It's probably the wrong outcome, too. Car companies, not just VW, will continue to game environmental restrictions by building cars that perform better in tests than on the road. Regulators in Europe have agreed to switch to road testing, but they realize that the norms cannot realistically be met, so they've given automakers a long transition period. In any case, stricter standards only apply to new cars, and in all major markets the average car on the road is about 10 years old. The tougher the environmental requirements, the higher the price of cars and the longer people use their old ones before trading up.
The VW scandal has made a lot of headlines, a lot of money for lawyers and some for the U.S. government and American VW owners. But for some reason it has not convinced regulators that trying to micro-manage car-building technology and then going after specific manufacturers for breaches is not the way to make cars "greener." It's too complex and inefficient. 
A carbon tax -- or perhaps a general emissions tax -- on fuel sales would have solved the problem far more effectively. Buyers would care far more about cars' real life fuel efficiency, and carmakers would comply with changing demand far more willingly than they do with regulation. The VW case could have made this more obvious, but somehow it didn't. That's a wasted opportunity.
To contact the author of this story:
Leonid Bershidsky at lbershidsky@bloomberg.net
To contact the editor responsible for this story:
Therese Raphael at traphael4@bloomberg.net
Before it's here, it's on the Bloomberg Terminal.
LEARN MORE