Share the View
Revisiting 2015's Terrible Year-End Predictions
A daily digest of opinions and analysis from Bloomberg View.
by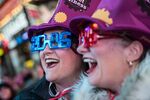 Put Forecasting in its Final Resting Place
Pundits and analysts are again trotting out predictions for next year, even though random guesses are just as accurate. Need proof? Barry Ritholtz rounds up the failingest predictions for 2016 (remember the recession that never happened?) for clues about how prognosticators get it wrong. 
Brazil Could Help Solve Europe's Refugee Crisis
Latin America's largest country has a long tradition of assimilating immigrants, and an influx of new workers would give it the economic boost it needs. Rodrigo Zeidan and Irineu de Carvalho Filho see opportunity in the midst of a humanitarian disaster.
College Towns Have Had Their Fun
True, universities are great for regional economies now, but that college-town magic might not last forever. Conor Sen warns that the millennial college boom has already peaked, and a larger share of tomorrow's high-school graduates will go straight into the workforce.
For Cherokee Nation, Gay Marriage Is Traditional 
The tribe has long accepted same-sex couples, and now its laws reflect that. Noah Feldman explains why the Cherokee Nation's recent decision to legalize gay marriage — it wasn't bound by the 2015 Supreme Court ruling — also offers a smart strategy for converting opponents of gay rights into supporters. 
When to Send an Investing Model Into Retirement
A market theory that needs constant revisions to keep up with reality has outlived its usefulness. Noah Smith says that time has come for the Fama-French five-factor asset-pricing model (and its "classic" three-factor predecessor).
Ritholtz's Reads
Time for Keynesian economics to rise from the dead? (The Guardian)
What Bertrand Russell would say about the Russell Index (Real Clear Markets)
The irrationality within us: Why we are not as rational as we think, and why that matters (Scientific American)
(Read Barry Ritholtz's full daily news roundup.)
Bloomberg Gadfly 
(Read more from BV's sister site for fast business commentary.)
Get Share the View every morning in your inbox. Click here to subscribe.
To contact the author of this story:

Before it's here, it's on the Bloomberg Terminal.
LEARN MORE