Cities
New Jersey's Blues Aren't Just About Christie
Times have changed in the land of the suburban mall.
by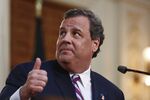 New Jersey Governor Chris Christie isn't very popular these days in his home state. New polls out this week from Fairleigh Dickinson University and Quinnipiac University put his approval rating at 18 percent and 19 percent, respectively. Quinnipiac reported that this was the lowest approval rating it had ever encountered in two decades of polling in about a dozen states, although it turns out it's not actually a record in New Jersey. As Jonathan D. Salant of NJ Advance Media (aka the Newark Star-Ledger, the Times of Trenton, Jersey Journal etc.) pointed out, Brendan Byrne, a Democrat who served from 1974 to 1982, once got a 17 percent approval rating in the Rutgers-Eagleton Poll.
Some of this dissatisfaction with Christie is surely a reflection on the man's bumptious personality, and his seeming lack of interest in governing the state over the past couple of years as he first ran for president and then became one of the most prominent backers of Donald Trump. Some of it surely has to do with the fiscal pressures imposed by the state's long-brewing pension-funding crisis, which isn't really Christie's fault, although he hasn't done enough to fix it. Some of it is surely due to the "Bridgegate" scandal.
But I'm a sucker for deeper economic narratives, and it's not hard to find a deeper economic narrative of dissatisfaction and malaise among the residents of my native state. 1  Here, for example, are median household incomes in New Jersey over the past quarter century:

There's a lot of noise in state median income data, so I wouldn't make too much of the year-to-year fluctuations. But two things stand out:
The trendline over the past decade slopes downward, and
New Jersey's median household income in 2015 was almost identical, in inflation-adjusted terms, to the median income in 1990.
That's pretty malaise-y! The national median household income in 2015 was still below where it was in 1999 and 2000, but at least it was up 7 percent over 1990. Here's another, longer-run view, this time of per-capita (mean, that is, not median) personal income in New Jersey relative to the country as a whole.
New Jersey remains an affluent place; it ranks third among the states (behind Connecticut and Massachusetts) in per-capita personal income and sixth in median household income. But it's clearly had its ups and downs through the decades, and since about 2000 it has been losing economic ground relative to the rest of the country.
I am not the first to make note of this historical economic roller coaster and recent decline. Two guys at Rutgers University wrote a whole book about it called "New Jersey's Postsuburban Economy," which came out last year and had been sitting on my shelf waiting for just this moment. They are James W. Hughes, dean of Rutgers' Edward J. Bloustein School of Planning and Public Policy, and Joseph J. Seneca, an economics professor and the university's former chief academic officer, and the main story they tell is of three eras of economic development in New Jersey since Europeans began moving there in the 1630s.
First came agriculture, which reigned in the 17th and 18th centuries. Then came industry, with Alexander Hamilton's Society for Establishing Useful Manufactures, founded in 1791 to promote industrial development along the Passaic River in northern New Jersey, helping lead the way. As the Rutgers guys describe it:
"Trenton Makes, the World Takes" and "On Camden Supplies, the World Relies" were not merely slogans but economic reality. New Jersey was a technology-driven, urban manufacturing dynamo by the time the twentieth century arrived and was at the leading edge of global industrialization.
New Jersey's urban factories began to shut down before mid-century, and the cities declined precipitously after that. Newark lost 37 percent of its population between 1950 and 1990, Camden 32 percent. But the state found a new economic organizing principle in suburbanization.
This suburbanization was initially a residential phenomenon. Retail naturally followed -- Hughes and Seneca report that in the early 1990s New Jersey was home to 29 large enclosed malls. And then, starting in the 1970s but really taking off with the commercial real estate boom of the 1980s, came the era of the suburban office park. North-central New Jersey became the country's fifth biggest metropolitan office market, an archetype for the "edge cities" that were transforming metropolitan areas across the country. As journalist Joel Garreau put it in his 1991 book "Edge City: Life on the New Frontier": "New Jersey is, in many respects, America's urban future."
That may still be true for America -- as real estate economist Jed Kolko has reported, population and employment growth in U.S. suburbs and exurbs is again outstripping that in cities. But for the past decade-plus, New Jersey and its edge cities have been slipping backward relative to the giant non-edge city next door: 2
There is at least one county that has been bucking the New Jersey trend, with big gains in employment and population over the past few years. But that's effectively New York City's sixth borough -- Hudson County, a densely packed, transit-rich strip of land across the river from Manhattan, with a burgeoning downtown of its own in Jersey City that now has more office space than downtown Pittsburgh.
The shift, Hughes and Seneca say, is in large part generational. Suburban, edge-city New Jersey was built around and optimized for the baby boomers, those born from 1946 through 1964. Boomers seem to like living in houses with lawns, driving everywhere and working in shiny office parks next to expressway exits. Their children appear to be less enthusiastic about such things, favoring apartments, walking and working on their laptops at coffeehouses.
Or something like that -- it is becoming apparent as the economy improves that at least some of the millennial generation's apparent disdain for houses, cars and office jobs was born of dire economic necessity rather than preference. But it's clear from real estate prices and other measures that there is more demand for city living and working than there was 20 years ago. And while in much of the country that demand and the failure of cities to build enough housing to meet it has been driving growth out to cheaper suburbs and exurbs, New Jersey faces the problem that even in its suburbs, the living is pretty expensive -- it has the sixth-highest median home price among the states, and the third highest state and local tax burden.
So that's the state's postsuburban quandary, and you can't really blame it on a governor who took office in 2010. What to do about it? Hughes and Seneca don't offer an answer, but one important theme of their book is that in every era the state has made big investments in transportation to enable its economic growth -- from canals to railroads to highways to giant toll roads.
I have no idea what combination of roads and trains and bike lanes and hyperloops postsuburban New Jersey will need to thrive, but I'm guessing that good connections to resurgent New York City will be really important. So it can't have helped that two of the signature actions of Chris Christie's governorship -- killing a plan to dig a new rail tunnel to Manhattan in 2010 and causing a horrific traffic jam at the George Washington Bridge in 2013 -- have involved cutting his state off from the city. Blame him for that, definitely.
To contact the author of this story:
Justin Fox at justinfox@bloomberg.net
To contact the editor responsible for this story:
Stacey Shick at sshick@bloomberg.net
Before it's here, it's on the Bloomberg Terminal.
LEARN MORE