Politics
The Muddle and Menace of American Politics
There's still a lot we don't know about the unsettled electorate.
by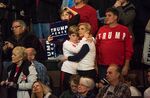 Somewhere in Wisconsin there is a voter who voted two times for the nation's first black president, once for Tammy Baldwin, the nation's first openly lesbian senator, and then, on Nov. 8, for a question mark in a red cap, Donald Trump. 
Actually there are more than a few such voters, which is how Trump won previously blue Wisconsin by a margin of about 22,000 votes. As Milwaukee Journal Sentinel political reporter Craig Gilbert wrote after the Nov. 8 election:
There are 13 counties in Wisconsin that have now voted for Obama twice, Gov. Scott Walker three times, Trump on Tuesday, Senate Democrat Tammy Baldwin in 2012 and Senate Republican Ron Johnson in 2016.
American politics was volatile pre-Trump. Post-Trump, everything's both more volatile, and more of a muddle.
Did Hispanic voters reject Trump in record numbers, as a Latino Decisions survey and separate vote analyses suggest? Or did Trump do especially well among poor, rural Hispanic voters and, as exit polls indicated, surpass Mitt Romney's percentage among Hispanics -- and perhaps all nonwhites -- overall?
The Hispanic landslide for Clinton is beginning to look more likely. But the difference is not academic. It will influence how Trump and his team interpret, and choose from, a menu of political incentives. For example, if Hispanic voters are truly beyond Trump's reach in 2020, as most black voters no doubt are, the new White House will orient its policies even more decisively toward maximizing its share of the white vote in 2020.
In Wisconsin, Trump far surpassed Romney in rural counties while underperforming in key Milwaukee Republican suburbs. Here's what that means: As Republicans in Washington continue to normalize Trump, and conservative dissidents are shunned or pressured into silence, those affluent educated Republican voters who abandoned Trump in 2016 will come back into the partisan fold, adding to Trump's vote in 2020.
Unless it means nothing of the sort. Wisconsin Democratic pollster Paul Maslin wrote, via e-mail:
The Milwaukee suburbs have been anomalous for almost a generation. In the Northeast and Midwest, they are the one major metropolitan suburban vote that has remained resolutely Republican. Is the 2016 election the break in the dam that finally sends them -- perhaps 20 years late -- heading where the Democratic-leaning suburbs of Chicago, Philadelphia, New York, etc. have already gone?
The answer: Who knows?
If Trump's voting coalition is unsettled, so is the so-called Rising American Electorate/Emerging Democratic Majority that was supposed to bring victory to the Democrats. In the end, the Democrats' multiracial demographic advantage proved real. It delivered a majority of more than 2.6 million votes to Hillary Clinton. But too many of those votes were wasted in strategically impotent states, enabling Trump to win the Electoral College with only 46 percent of the popular vote. And Clinton fell short with a crucial cohort: white women.
There is compelling, though inconclusive, precinct-level evidence that Hispanics did deliver big margins to Clinton, akin to the 79 percent predicted by Latino Decisions. There are also pretty convincing macro indicators. While Clinton failed in heavily Hispanic Florida, her biggest disappointments were in Michigan, Pennsylvania and Wisconsin, where Hispanic voters weren't much of a factor.
In some heavily Hispanic states, she performed better than Obama did in 2012. Clinton surpassed Obama's vote in Arizona by 230,498, reducing the Republican margin by more than half.     
As one analysis concluded:
Arizona could not have voted 5 points more Democratic with Latinos voting less Democratic. Instead, we see evidence of a growing Latino electorate in Arizona that has been mobilized by the anti-immigrant rhetoric and policies of Republican politicians.
In effect, the thesis that heavily Hispanic red states, including Arizona and ultimately Texas, would become more competitive over time seems pretty much on target. Clinton won a half-million more votes in Texas in 2016 than Obama did in 2012.
The Trump team surely noticed. They will almost certainly look for new ways to ratchet up his already high support among whites. That could entail an even harder-edged racial politics than we experienced in 2016.
The implications are far reaching for the tenor of rhetoric Trump uses, the fate of Obamacare (which has markedly benefited Hispanics), how aggressive Republicans are in deporting undocumented immigrants, how fiercely they target Muslims, and how far they are willing to go in promoting new vote suppression tactics against minority voters. And, of course, exactly how much rein Republicans grant Trump for his authoritarian impulses is yet to be determined.
A landscape that seems muddled now could grow clearer, and perhaps more menacing, very soon. 
To contact the author of this story:
Francis Wilkinson at fwilkinson1@bloomberg.net
To contact the editor responsible for this story:
Katy Roberts at kroberts29@bloomberg.net
Before it's here, it's on the Bloomberg Terminal.
LEARN MORE