Share the View
Dismal Times for Economists
A daily digest of opinions and analysis from Bloomberg View.
by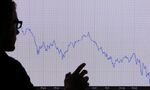 Debating What's Wrong With Macroeconomics
The field once seemed to have answers for all sorts of thorny questions ... and then the financial crisis hit. Mark Buchanan and Noah Smith discuss how macroeconomics can regain intellectual credibility after its recent "spectacular failure."  
From Peak Oil to Peak Oil Demand in Less Than a Decade 
The industry may worry that a "day of reckoning" is near, but as Justin Fox observes, energy forecasters have a pretty spotty track record. For proof, consider some quaint predictions from the long-forgotten days of 2007.
How Russian Propaganda Really Works in the West
Russian state news organizations infiltrated alternative media while nobody was paying attention, and now their Kremlin-approved product is more influential than ever. As Leonid Bershidsky notes, RT and Sputnik owe their success less to subterfuge, and more to their eager Western viewers. 
The Coming Immigration Clash 
Donald Trump's election victory was a win for anti-immigration advocates, but a network of pro-immigrant cities, institutions and activists is gearing up for a fight. Francis Wilkinson foresees an epic battle between two forces that refuse to back down.
The Enrollees Who Didn't Really Need Obamacare
What if nearly half of all new ACA beneficiaries were already eligible for Medicaid? Megan McArdle points to new research suggesting that's true -- and that repealing Obamacare would be less politically risky than people think.
Ritholtz's Reads
(Read Barry Ritholtz's full daily news roundup.)
Bloomberg Gadfly 
Get Share the View every morning in your inbox. Click here to subscribe.
To contact the author of this story:

Before it's here, it's on the Bloomberg Terminal.
LEARN MORE