Share the View
Look to Cities for Environmental Action
A daily digest of opinions and analysis from Bloomberg View.
by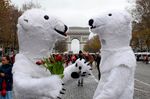 Washington Won't Have the Last Word on Climate Change
Worried that the Trump administration will push back progress on global warming? Michael R. Bloomberg promises that cities will continue to lead on climate change: "No matter what regulations the next administration adopts or rescinds, no matter what laws the next Congress may pass -- we will meet the pledges that the U.S. made in Paris."
Europe Isn't Ready for U.S. Bank Rules
As the European Union pushes back against U.S. financial dominance and regulatory demands, Leonid Bershidsky suggests American rulemakers ease up, lest they trigger more protectionist resistance.
Markets Would Struggle to Digest Corporate Tax Reform
Repatriating overseas cash sounds great in theory, but what would happen if corporate America were dealt a one-time tax bill of $150 billion? Conor Sen warns that a "business-friendly" Trump proposal could have dire consequences for businesses, investors and the economy. 
What If Trump Wanted to Increase Illegal Immigration?
If the president-elect hoped to maximize the number of undocumented immigrants in the U.S., Tyler Cowen would suggest he do three things: Invest in big national construction projects, cut taxes, and take steps to weaken the Mexican economy. Hey, wait a minute...
How DNA Evidence Went From Airtight to Error-Prone
While the technology for analyzing DNA has improved vastly since the 1990s, some crime labs are using scientifically dubious techniques. Faye Flam explains why jurors and the public have reason to be wary.
Ritholtz's Reads
(Read Barry Ritholtz's full daily news roundup.)
Bloomberg Gadfly 
Get Share the View every morning in your inbox. Click here to subscribe.
To contact the author of this story:

Before it's here, it's on the Bloomberg Terminal.
LEARN MORE