view
In German Politics, the Center May Not Hold
A daily digest of opinions and analysis from Bloomberg View.
by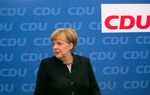 Angela Merkel's Fourth Election Will Be Her Toughest
The world's foremost centrist is running for a fourth term, but her electoral victory is far from assured. Leonid Bershidsky says it won't be enough for the chancellor to remind Germans of the values she stands for — voters also demand a plan.
In Trump Versus China, Everyone Can Win
By raising the specter of an outright trade war, the next U.S. president could be doing the Chinese a favor. Christopher Balding explains how Donald Trump's tough talk could prompt the government to undertake politically difficult reforms. 
Trump's Presidency and His Business: Drain That Swamp
The president-elect is set to enter the White House with more potential conflicts of interest than any leader in American history, with new signs of trouble piling up on a near-daily basis. If Trump truly wants to rein in corruption, Timothy L. O'Brien says, he'll have to start at the top.
Get Ready for Holiday Forecasting Follies
Almost every year, the National Retail Federation predicts holiday shopping sales, and almost every year, the forecast is wrong. Barry Ritholtz calls for skepticism ahead of this (and every) festive season.  
Dallas Is Where the Jobs Are
By just about every metric, the Dallas-Fort Worth region is leading the United States in job creation. Justin Fox examines the reasons employment is booming in north Texas.
Ritholtz's Reads
(Read Barry Ritholtz's full daily news roundup.)
Bloomberg Gadfly 
Get Share the View every morning in your inbox. Click here to subscribe.
To contact the author of this story:

Before it's here, it's on the Bloomberg Terminal.
LEARN MORE