Editorial Board
Trump Can't Keep His Immigration Promises
Expect the issue to remain unresolved for the next four years.
by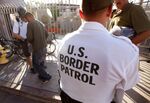 Come Jan. 20, President-elect Donald J. Trump will start carrying out his agenda. How does he expect to turn promises into policy? Do his plans make sense? If not, what should he do? Finally, given the political realities of Washington, what's most likely to happen? This is part of a series of editorials that try to answer these questions.
What he says he'll do: In an interview after his election last week, Trump said that he favors deporting 2 to 3 million undocumented immigrants, whom he described as "criminal." Then, "after the border is secured and after everything gets normalized," he would determine what to do about the remaining 8 to 9 million undocumented immigrants in the country. Meanwhile, anyone who has entered the country illegally is "subject to deportation," according to his campaign website, which also vows to rescind President Barack Obama's executive actions temporarily shielding from expulsion more than 700,000 undocumented immigrants who came to the U.S. as children.
Does that make sense? Prioritizing the deportation of criminals -- there are far fewer of them than Trump claims -- is the current federal policy, and if Trump intends to continue that course, it's a sensible approach. If, however, he will be guided by the policies on his website, the U.S. has neither the enforcement nor judicial infrastructure necessary. Not to mention popular support: As recently as July, a Gallup poll found two-thirds of Americans opposed to deporting all immigrants living in the U.S. without authorization.
What he ought to do: Trump should focus enforcement resources on removing genuine criminals while also clarifying his intentions toward all other undocumented immigrants. Vague, seemingly contradictory threats needlessly strike fear in families and freeze economic potential. People deciding whether to invest in a home or business should know what awaits them.
The most likely outcome: Trump will rescind Obama's executive actions and pursue a more aggressive course on deportations. "Dreamers," those brought to the U.S. as children, will also be subject to removal. Immigration courts, already clogged, will be overwhelmed as civic and religious organizations assist immigrants contesting deportation. Many states and localities will refuse to cooperate with federal immigration authorities. The issue will continue to fester, without resolution, throughout Trump's term.
--Editors: Francis Wilkinson, Michael Newman
To contact the senior editor responsible for Bloomberg View's editorials: David Shipley at davidshipley@bloomberg.net .
Before it's here, it's on the Bloomberg Terminal.
LEARN MORE