view
A Balanced Budget? Ha!
A daily digest of opinions and analysis from Bloomberg View.
by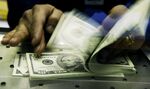 Sorry: Unified Government Doesn't Mean Fiscal Discipline
Stephen Mihm has news that's sure to disappoint America's few remaining deficit hawks (we know you're out there): When Republicans control both the White House and Congress, you can expect more spending, not less.
Blame the SAT for Donald Trump
What if a test meant to open up universities instead divided America into rival classes? What if, indeed. Justin Fox connects the dots between that bland instrument of the meritocracy and today's angry populist moment. 
Here's an Idea for the Next President: Hire the Most Competent People
U.S. leaders have long placed political appointees in key positions, believing they'd be more loyal than career civil servants (and just as effective). But after sifting through decades of research, Kara Alaimo finds that just isn't true.  
Valeant's Pharmacy Ties Get Even Murkier
Prosecutors think the troubled pharma company wasn't doing weird stuff — instead, weird stuff was being done to it. Matt Levine parses the latest developments in a convoluted, still-unfurling tale featuring drugs, fraud allegations, and a guest appearance from Brian Wilson (well, "Brian Wilson").
California Is America's Democratic Capital
And while you've got the Beach Boys on the brain, Francis Wilkinson checks in on the Golden State, where a liberal government-in-exile is being established in Sacramento. 
Ritholtz's Reads
Theranos whistleblower shook the company — and his family (WSJ)
Long-short investing might shorten your investment lifespan (Alpha Architect)
How the White House could justify a debt-driven Keynesian stimulus (Bloomberg)
(Read Barry Ritholtz's full daily news roundup.)
Bloomberg Gadfly 
Get Share the View every morning in your inbox. Click here to subscribe.
To contact the author of this story:

Before it's here, it's on the Bloomberg Terminal.
LEARN MORE