view
Germany and Merkel Are Ready for Trump
The West's last idealist leader is also a seasoned pragmatist.
by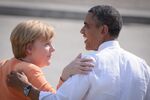 As U.S. President Barack Obama visits Berlin to prepare Chancellor Angela Merkel for a future he doesn't understand himself, it may look as if he is passing the baton of free world leadership to her. It's hard to imagine how Merkel could take on any such role and why she would want to. She may be the last strong idealist among major Western leaders, but she's also a pragmatist, and in some ways, the new U.S. administration may suit her just as well as the outgoing one did.
German newspapers describe the relationship between Obama and Merkel as "late-blooming love" or "love at second sight." By German standards, which are far to the left of U.S. ones, Merkel is a conservative, and Obama the progressive didn't immediately impress her -- thus her still-remembered decision to deny him the Brandenburg Gate as the backdrop for his Berlin speech in 2008, when he was still running for president. Later, however, Obama and Merkel came to agree on almost every important matter: Free trade, climate change, Russia's new assertiveness, immigration (according to Obama, Merkel's decision to temporarily open the German border to Syrian refugees was "on the right side of history"). 
The relationship even withstood the realization, following Edward Snowden's revelations that the U.S. had been spying on Germany and on Merkel herself. Merkel, after all, is an Americanophile, as she explained in her 2009 speech to U.S. Congress. "The land of unlimited opportunity – for a long time it was impossible for me to reach," the East German-born chancellor recalled. "So I had to create my own picture of the United States from films and books, some of which were smuggled in from the West by relatives."
I can relate to that: Many of us, born behind the Iron Curtain, went through the same process. No matter what the U.S. did afterwards, those Hollywood-style images we created for ourselves have never completely faded. For Merkel, the picture included the values on which she now bases her policies, above all an idealistic vision of human rights and liberties. For most Germans, Obama managed to restore trust in those values after an unpopular George W. Bush presidency, and to keep it despite glitches like the spying scandal and his failure to close the Guantanamo prison. In June, 86 percent of Germans believed in his ability to do the right thing in world affairs. Confidence in Donald Trump remains in the single digits. That's why Merkel's not-so-congratulatory telegram to Trump and her terse post-election statement listed the values -- particularly non-discrimination on the basis of race, gender and religion -- that would be a condition of the country's future-cooperation.
But take the standard liberal values out of the U.S.-German partnership, and the pragmatic relationship that remains won't be significantly different from the current one. It may actually be cozier and less demanding.
During his final European trip, Obama stopped in Greece and called on the European Union to be more lenient in handling that country's debt problems. This is something on which Merkel has not accepted his guidance: It's important to her than any relief for Greece to be tied to firm and specific reform requirements. She hasn't budged from this stance despite U.S. pressure and she probably won't since it would be politically unpopular in Germany -- something to avoid with elections scheduled for next year.
Long before Trump won the election, the German government has been rethinking its relationship with the U.S. in the security area. Under Obama's tenure, Merkel has refused to intervene alongside the U.S. in Libya and the Middle East.
In April, the German government published a white paper on the future role of the German armed forces, which mentioned strengthening the "European pillar" of the North Atlantic Treaty Organization but also said that the "long-term goal of German security policy is to create a European Security and Defense Union" complete with an armed force. Merkel recently has been calling for a boost in military spending, which would bring it closer to fulfilling the NATO pledge to devote 2 percent of gross domestic product to defense, but the emphasis today is not on NATO but on building a European army, whatever it ends up being called. With the U.S. commitment to defending European allies in question because of Trump's recent campaign rhetoric, it'll only be easier for Germany to argue that Europe doesn't always need U.S. command to defend itself.
At the same time, if U.S. sanctions against Russia lapse or weaken under the Trump administration, she may well opt for the pragmatic decision to weaken the economic restrictions, since Germany is the European nation that suffers the most from them and from Russian counter-sanctions. 
In a jointly bylined piece for the German weekly Wirtschaftswoche, setting out the agenda for the Berlin meeting, Obama and Merkel argued in favor of the Transatlantic Trade and Investment Partnership -- a key trade deal between the U.S. and the EU -- and the Paris agreement to counter climate change. In reality, however, the two countries' interests in these areas are different.
Merkel has been pushing for TTIP because it would potentially provide a bigger benefit to European economies than to the U.S. one, but the deal is highly unpopular in Germany, and trying to push it through would be difficult, damaging and probably unfeasible, as the recent near-fiasco with a similar EU-Canada deal showed. Trump is an avowed enemy of TTIP, and Merkel will probably drop it from the active agenda with relief. Germany, after all, has a comfortable trade surplus with the U.S., its biggest trading partner, and whatever trade policies Trump pursues, it probably won't shrink: The biggest German export articles to the U.S. are cars, machinery and pharmaceuticals that the U.S. buys for quality rather than cost reasons.
Germany has been far more resolute than the U.S. in moving to sustainable energy: Merkel has courageously taken on the energy lobby and put the country's traditional power companies on the brink of ruin. The U.S. has helped these companies and, to some extent, undermined the German energy transition by supplying cheap coal. So far this year, Germany, one of the biggest U.S. coal importers, has bought more of it than Mexico -- but it's been gradually weaning itself from the dependence. Trump, who has vowed to support coal extraction and whose allies include strong climate-change deniers, will probably clash with Merkel on this front -- but it won't be a major problem since the U.S. has plenty of other export markets.
Germany has long presented a positive example to the U.S. It has a balanced budget, universal health care, free college education, a big trade surplus, a higher life expectancy and a more progressive energy mix. Now, arguably, the German leader will be more principled and more attached to liberal values than the U.S. one. The U.S., however, has always chosen to ignore the German example. And the people of the U.K. have recently rebelled against the German example of communitarianism. Leading by example, as Merkel has done, has a flip side: Following is strictly voluntary.
Trump's victory hasn't made Merkel any more of a leader for the whole Western world than she has already been. Her leadership relies on soft power, which takes a long time to work and isn't always effective. Merkel, however, is likely to get another chance to prove that Germans at least understand what she's doing. This coming weekend, she is expected to announce her candidacy for chancellor in 2017.
If she wins again, Trump, who is full of respect for Merkel as a national leader but critical of her immigration policy -- isn't likely to get a chance to speak in front of the Brandenburg Gate, as Obama eventually did. Yet she'll work constructively with him as she's worked with George Bush, Nicolas Sarkozy, Vladimir Putin and other leaders who didn't share her ideas. And that's one of the ways in which Merkel is a shining example to other world leaders.
To contact the author of this story:
Leonid Bershidsky at lbershidsky@bloomberg.net
To contact the editor responsible for this story:
Therese Raphael at traphael4@bloomberg.net
Before it's here, it's on the Bloomberg Terminal.
LEARN MORE