Editorial Board
Trump Versus the Pentagon
Trump's ideas for military reform are as outdated as a mothballed B-52
by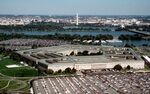 Come Jan. 20, President-elect Donald J. Trump will start carrying out his agenda. How does he expect to turn his promises into policy? Do his plans make sense? If not, what should he do? Finally, given the political realities of Washington, what's most likely to happen? This is part of a series of editorials that try to answer these questions.
What he says he'll do: On the campaign trail, Trump called the military a "disaster" and said his top advisers would probably be "different generals" than those now in the White House orbit. He pledged to do away with so-called budget sequestration, which not only limits spending but ties the military's hands as to where to make cuts. Lamenting that man-, air- and seapower levels are down from Cold War levels, he pledged to vastly increase the sizes of the Army and Marines and to buy scores of new ships and planes.
Does that make sense? Ending sequestration is a no-brainer, and should have plenty of support in Congress. Otherwise, Trump seems to conflate quantity with quality. Yes, the Navy had three times as many ships in 1962 as today, but a vast number of them were World War II-era relics. Since the 1970s, the Pentagon has focused on precision weapons and highly trained forces instead of quantity.
What he ought to do: Instead of adding regular troops and ships, the military should get granular, focusing on special forces, unmanned technology like drones, cyberdefense, and a naval strategy of "distributed lethality" that emphasizes firepower and self-defense across the current fleet.
The most likely outcome: Men with far more experience than Trump -- including Donald Rumsfeld, who was secretary of defense twice -- have pledged to clean house at the Pentagon only to be outmaneuvered by the generals. Trump and his team can ignore the top brass, but given the military promotion structure and job security, they won't be able to fire many of them. The generals will gladly take the additional money he's promising, but will follow their own priorities, knowing that Trump will be out of office decades before any major new weapons projects come to fruition.
--Editors: Tobin Harshaw, Michael Newman
To contact the senior editor responsible for Bloomberg View's editorials: David Shipley at davidshipley@bloomberg.net.
Before it's here, it's on the Bloomberg Terminal.
LEARN MORE