view
A Surprising Chinese Response to American Politics
A daily digest of opinions and analysis from Bloomberg View.
by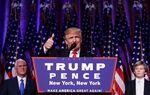 An Unlikely Upside to the U.S. Election
To the many unexpected outcomes of the chaotic 2016 campaign, add one more: Many Chinese are touting it as an example to follow. Adam Minter says that in all its bitterness, the election highlighted a freedom that China lacks.
Now Democrats Must Rebuild From the Ashes
It was a devastating election for the Democrats, but the twilight of the Clintons has left room for new stars to emerge. Albert R. Hunt considers the people and strategies likely to dominate a struggling party. 
Why Obama Should Pardon Hillary Clinton
It may sound extreme, but Paula Dwyer says that a presidential pardon would be the only fail-safe way to prevent four years of GOP show trials.
Why Resistance to Strongmen Crumbles So Quickly
Pankaj Mishra sees instructive parallels between the election of Donald Trump in the U.S. and the rise of right-wing nationalist Narendra Modi in India — and warns that liberals can find it all too easy to accommodate a demagogue.
Asia's Two Giants Still Have Room to Grow
Don't believe the economic naysayers, Noah Smith says: China and India will power global growth for the foreseeable future, and developed nations should give them plenty of help.
Ritholtz's Reads
Lucasfilm owns all of your Droids (Priceonomics)
The forces that drove this election's media failure are likely to get worse (NiemanLab)
To understand Facebook, study Capgras syndrome, the mental disorder that gives us a unique insight into the digital age (Nautilus)
(Read Barry Ritholtz's full daily news roundup.)
Get Share the View every morning in your inbox. Click here to subscribe.
To contact the author of this story:

Before it's here, it's on the Bloomberg Terminal.
LEARN MORE