Editorial Board
How Not to Fight Climate Change, Pipeline Edition
Right goal. Wrong approach.
by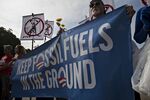 A pipeline in North Dakota has become a rallying cry for protesters seeking to stop new fossil fuel projects. Their goal -- reducing emissions -- is the right one, but their methods --opposing and sabotaging pipelines -- are wrong.     
Maybe the pipeline, which once completed would carry oil to a shipping terminal in Illinois, needs to be rerouted to protect sources of local drinking water, or to respect the rights of a nearby Sioux Native American tribe. President Barack Obama suggested as much last week. That's a far less drastic solution than outright abandonment of the project.
The main problem with the movement to block new oil and gas projects is that it ignores two basic facts. First, the U.S. still needs fossil fuels, and getting gas and oil domestically helps the U.S. move toward energy security. And second, the increased production of natural gas has done more than any government policy to reduce the use of coal in America. And coal is the dirtiest fossil fuel.
It would certainly be nice if every American car ran on electricity. But fewer than 1 percent of the cars and trucks sold last year do. Absent a drastic shift in the U.S. auto market, Americans will need oil for a long time to come -- and pipelines to carry it to market.
That doesn't necessarily mean that every oil and gas project ought to proceed. On the contrary, all energy projects need to be put to a simple test: Accounting for the social and environmental cost of carbon, does the project still make economic sense?
That question is hypothetical today, since the U.S. doesn't account for the costs of carbon. But it won't be forever. As the consequences of climate change become more costly and evident, the case for a carbon tax will only get stronger and more obvious.
Agitating for a carbon tax may not be as exciting as protesting a pipeline. But in the long run, it will do more to advance the fight against climate change.
--Editors: Christopher Flavelle, Michael Newman.
To contact the senior editor responsible for Bloomberg View's editorials: David Shipley at davidshipley@bloomberg.net .
Before it's here, it's on the Bloomberg Terminal.
LEARN MORE