Share the View
Jobs, Jobs, Jobs
A daily digest of opinion and analysis.
by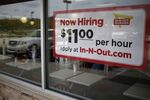 Three Simple Messages From the U.S. Employment Data
Wages are rising and so is employment, according to the jobs report released Friday. Mohamed El-Erian explains what the last update before the election means for the economy, the Fed and markets. 
Looking to Hire Somebody? Skip the Interview
Research shows job interviews offer surprisingly little value for employers — in fact, there's evidence they lead managers to make worse hiring decisions. Cass Sunstein considers why so many companies won't give up the time-wasting exercise.
Trolls Are Crippling Twitter
Twitter loses money despite bringing in a lot of revenue, and its user growth has slowed to a trickle. What gives? Noah Smith says the problem is baked into the social network: It's the ideal platform for being an online jerk.
The Most Important Fact About Trump
Amid waves of stories about about Donald Trump's bullying, bigotry, tax dodges and temper, one central point has been lost: Republican Party elites still really don't like him. Jonathan Bernstein takes stock of an underappreciated schism. 
This Bull Market Has Room to Run
Good news for your portfolios, courtesy of Barry Ritholtz: Many conditions are in place for long-term gains in stocks.
Ritholtz's Reads
Slack channels Steve Jobs when calling out Microsoft (Vice)
Tech jobs, cheaper housing: The new silicon cities (Wall Street Journal)
Bond traders aren't worried about the election. Should we listen to them? (Moneybeat)
(Read Barry Ritholtz's full daily news roundup.)
Bloomberg Gadfly 
(Read more from BV's sister site for fast business commentary.)
Get Share the View every morning in your inbox. Click here to subscribe.
To contact the author of this story:

Before it's here, it's on the Bloomberg Terminal.
LEARN MORE