U.S. Economy
The Fed Won't Say What It Should
It's likely to signal a December rate increase. That's a mistake.
by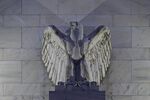 This week, officials at the U.S. Federal Reserve will meet to discuss their next moves in managing a disappointing economic recovery. Unfortunately, they're not likely to say what they should.
I expect that the Fed will leave its target range for short-term interest rates unchanged at a quarter to a half percent, and won't alter its long-term asset holdings. That's partly because little has changed in the economic data since the central bank's last policy-making meeting in September, when it also decided not to act. Also, there's no press conference immediately following this meeting, leaving officials without a platform to explain their actions -- something they will have after the next meeting in December.
Still, the Fed will say something in the statement that accompanies its monetary-policy decision. Most likely, it will signal its willingness to raise rates in December. By then, inflationary pressures will probably look a bit stronger: The Fed's preferred measure -- the price index for personal consumption expenditures, excluding volatile food and energy -- was very low in October 2015, so the next year-over-year reading seems likely to come in at 1.8 percent, up from 1.7 percent in September. Many Fed officials will want to use this week's statement to prepare markets for a rate increase in that eventuality.
So that's what the Fed probably will do and say. Now for what it should do and say.
I argued in September that the Fed should cut its target rate by a quarter percent, but this time around -- given the absence of a press conference at this meeting -- I'd be more willing to leave it unchanged. Measures of longer-term inflation expectations in financial markets -- though still disturbingly low -- have recovered a bit from their February nadir. The labor market recovery persists, albeit at too slow a pace. All told, I'm somewhat more optimistic about the Fed's ability to achieve its objectives of 2 percent inflation and maximum employment within one to two years.
That said, I think raising rates or signaling a December increase would be a mistake. The world remains full of risks to the U.S. economy, including bad debts in China and financial malaise in Europe. If these risks materialize, the Fed has limited tools with which to fight back. So it should keep rates low now to maintain enough momentum to withstand adverse shocks.
Next week's presidential election, too, has to be seen as one of the main risks facing the economy. We simply don't know how economic decision-makers will react to a Trump or Clinton victory. Until that uncertainty is resolved, maintaining stimulus is the right thing to do.
To contact the author of this story:
Narayana Kocherlakota at nkocherlako1@bloomberg.net
To contact the editor responsible for this story:
Mark Whitehouse at mwhitehouse1@bloomberg.net
Before it's here, it's on the Bloomberg Terminal.
LEARN MORE