view
Fear of Failure and Japan's Entrepreneur Gap
A daily digest of opinions and analysis from Bloomberg View.
by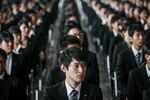 Japan Might Be Too Scared of Failure to Succeed
The total value of venture capital deals completed in Japan was just $800 million last year, according to Ernst & Young -- about one-third the amount in Israel and one-ninetieth the sum  in America. Michael Schuman warns that outdated business practices and misguided policies are preventing the "creative destruction" needed to revitalize the country's economy.  
Global Warming Is Already Making Americans Move
Climate displacement is real, and it's hitting people in public housing first. Christopher Flavelle reports that across the country, low-income residents are bearing the brunt of natural disasters and rising seas.
The TPP Is Exciting. Let's Make a Case for It
The Trans-Pacific Partnership's virtues don't make good sound bites, but still, they're compelling. Tyler Cowen argues that advocates must explain clearly why they stand for building a better American dream.
Sending Your Bills to the Government Is Silly, Not Criminal
A Colorado man sent his wife's student-loan bill to the U.S. Department of Agriculture, along with a polite note thanking the agency for payment. Now, he faces up to 25 years in prison on fraud charges. Noah Feldman slams the case as an abuse of power designed to silence political protest.
The Stock Market Has a Favorite in the Election
Investors normally seem to prefer Republican presidents, but this year, there's strong evidence they want Hillary Clinton to win. Noah Smith offers two hypotheses about how and why the election is moving markets. 
Tough(ish) Times for the People of Washington, D.C.
For residents of the capital, this election is about jobs: government jobs. And if history is any guide, Justin Fox says, out-of-work Washingtonians might be happier under a Republican administration.
Ritholtz's Reads
Who wins and who loses in the gig economy (Harvard Business Review)
What "expansions don't die of old age" really means (Real Time Economics)
Elon Musk just showed us the grand unification of Tesla: fast cars, big batteries, and a stunning solar rooftop. (Bloomberg)
(Read Barry Ritholtz's full daily news roundup.)
Bloomberg Gadfly 
(Read more from BV's sister site for fast business commentary.)
Get Share the View every morning in your inbox. Click here to subscribe.
To contact the author of this story:

Before it's here, it's on the Bloomberg Terminal.
LEARN MORE