view
The FBI's E-Mail Surprise
A daily digest of opinions and analysis from Bloomberg View.
by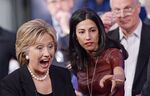 More Proof That 'Secure Information' Is An Oxymoron  
Did you hear? Of course you did: Hillary Clinton is having more e-mail trouble. The Weiner-Abedin-Clinton chain is troubling, Eli Lake says, but the FBI shouldn't influence the election this way — especially since politicians of both parties break the rules all the time.
A 'Tweak' to Fix Obamacare? That's a Red Flag.
To the liberal commentators arguing that Obamacare could be fixed with a minor tune-up, Megan McArdle responds: Policy changes can be easy or effective, but rarely are they both. 
If You Want More Small Businesses, Build a Better Safety Net
It's hard to take a risk on a new enterprise when you're paying off huge medical bills or can't put food on the table. Noah Smith argues that expanding the welfare state would give more Americans the freedom to be entrepreneurs. 
It's Good to Be a Giant Corporation Again
The much-heralded age of "disruption" once gave small startups a boost, but large, established companies are once more at the top. Justin Fox identifies three factors that explain why being big has its perks.
The Shift from Active to Passive Investing Isn't What It Seems
Many active money managers all buy the same stocks, just like index funds. The difference, Barry Ritholtz says, is that they charge much higher fees. 
Ritholtz's Reads
The future of investment management (Focus 262)
Does your company give you stock? Great. Sell it. (Barron's)
Most of what you probably think about investing is wrong (Fortune Financial)
(Read Barry Ritholtz's full daily news roundup.)
Bloomberg Gadfly 
Get Share the View every morning in your inbox. Click here to subscribe.
To contact the author of this story:

Before it's here, it's on the Bloomberg Terminal.
LEARN MORE