view
Why Heirs Can't Breathe in India
Even at Tata, the pressure of seniority weighs on management.
by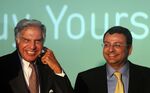 India's Tata group of companies, which sells everything from salt to software, is known for being, well, old-fashioned. Genteel, even. It tries very hard to avoid any sort of controversy. That's why the sudden removal of the group's young chairman, Cyrus Mistry, and his replacement by his predecessor, Ratan Tata, is particularly startling. Apparently, not even Tata Sons Ltd., the oldest of Indian old-money concerns, is immune from a very Indian problem: mismanaging succession.
We still don't know exactly what went wrong at Tata Sons, the group holding company. In an email to the board that ousted him, Mistry claimed that he'd been saddled with a debt-laden, unfocused giant that may be facing $18 billion in writedowns because of trouble in the company's hotel, automobile and steel businesses, among others. Others complain that Mistry had cut out the powerful charitable trusts that largely own Tata Sons from decisionmaking.
Whatever the truth, Mistry's ouster has clearly damaged the company's reputation. His appointment four years ago was hailed for being professional and well-managed. Family firms dominate the Indian economy; about 85 percent of all businesses are family-run. And Indian owners -- "promoters," as they are euphemistically known -- are particularly loath to give up control to outsiders. Half are expected to pass managerial control on to the next generation.
By contrast, Mistry was appointed after an exhaustive, 15-month search; he served with Ratan Tata for a year before the older man stepped aside. By appointing a chairman not named Tata, the company, once again, seemed to have shown the rest of Indian business how to do things with class and efficiency.
Yet Mistry was given barely four years before the older generation stepped back in -- a particularly short tenure by the company's standards. Ratan Tata ran the group for over two decades; his predecessor had been chairman for half a century. Rather than an outlier, Tata Sons now looks more like other Indian giants such as Reliance Industries Ltd. -- which had to be divided up between its founder's two sons in an acrimonious split that was followed by years of animosity -- and software major Infosys Ltd. Just as Ratan Tata has returned to the chairman's office, N. R. Narayana Murthy returned as executive chairman of Infosys long after he was supposed to have relinquished control.
Why do Indian companies have such trouble with transitions? Part of the problem is India's deeply entrenched, all-pervasive culture of respect for seniority. Even if a family scion gives up power willingly, as Ratan Tata seemed to do, he or she continues to exert an inexorable influence on company managers; Mistry has complained that Tata continued to make deals behind his back and resisted abandoning projects he'd launched, such as the Tata Nano micro-car.
Nor have India's protections for minority shareholders, although they are strong on paper, translated into the sort of activism that would ensure family squabbles are sorted out with minimal damage to the company's prospects or its internal cohesiveness.
This does long-term damage to the competitiveness of India Inc. When successions are so fraught, it's difficult to build long-lasting institutions or companies. Sensible succession planning requires power to be relinquished. It means the powerful must accept that their advice may not always be taken. That's not easy in India. Remember, this is the land where the "Hindu Undivided Family" is a real legal construct, allowing the oldest member of a family -- till quite recently, the oldest male -- to retain complete control over all property as long as he lives.
The problem extends to political parties, which are some of the biggest family businesses in India. On the very day that news broke of Mistry's sacking, India's headlines were dominated by a civil war in the Samajwadi Party, which rules India's largest state, Uttar Pradesh. Chief Minister Akhilesh Yadav -- the son of the party's founder Mulayam Singh Yadav -- is struggling to escape the restraints his father and uncles have placed on him. And far to the south, where Tamil Nadu's long-serving Chief Minister J. Jayalalithaa has vanished into a hospital room since September, her photograph still presides over cabinet meetings. There's no obvious successor, and no tradition of inner-party democracy that could yield one.
The insults traded at the Samajwadi Party's dramatic meeting were full of references to Indian successions -- historical and mythological -- that went badly; participants had a worryingly large number of such references to choose from. India is one of the world's youngest countries, but its political and corporate leaders are remarkably old. The difference in age between the rulers and the ruled has become distressingly wide. Unless companies and political parties find a way to bridge that gap, India's institutions -- and its great companies -- will continue to under-perform.
To contact the author of this story:
Mihir Sharma at m.s.sharma@gmail.com
To contact the editor responsible for this story:
Nisid Hajari at nhajari@bloomberg.net
Before it's here, it's on the Bloomberg Terminal.
LEARN MORE