Health Care
Clinton to the Rescue of Obamacare
If she gets a second chance, she should avoid overreaching, which doomed her effort in the 1990s.
by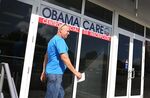 The Affordable Care Act isn't all that affordable, it turns out. Less than two weeks before Election Day, Obamacare's woes have become a weapon in the hands of Donald Trump and down-ticket Republicans. Hillary Clinton is left saying the problems are real, but fixable. Just tack on a public option, and Obamacare will be good as new.
If she is elected and pushes for a public option, in which individuals purchase a Medicare-like plan on state marketplaces, she could face another HillaryCare fiasco -- not just because it won't fly politically, but because it's the wrong policy.
QuickTake Health Insurance Exchanges
The priority instead should be to address basic flaws in the 2010 law that just-announced premium increases are revealing. The U.S. on Monday said the average monthly premium for a midlevel plan on the federal marketplace next year will rise 25 percent, to $302 from $242, for a typical 27-year-old.
After two years of underpricing their plans to attract enrollees, insurers have lost money and need to catch up. But that's not the only disappointing Obamacare news. Younger, healthier adults aren't signing up because out-of-pocket costs are too high for their moderate incomes. Most Americans, in any case, are covered by employer-based plans, which have expanded, not shrunk, since Obamacare began.
Enrollment is half what the Congressional Budget Office projected it would be by now, causing some insurers to abandon the program because they can't make a profit. When open enrollment begins on Nov. 1, the sticker shock could be severe for customers in states where only one or two companies are still offering plans.
Clinton says she favors a public option, which would move the U.S. closer to a single-payer system. It's a popular idea with the Democratic left. Oregon Senator Jeff Merkley's proposed resolution calling for it has 32 co-sponsors.
A public option was debated in 2009-10, when Obamacare was being created. Fear of Medicare's bargaining power among insurers, hospitals, physicians and pharmaceutical companies -- all of whose cooperation is needed to make Obamacare work -- doomed the idea politically even though Democrats were in control of Congress. There's no reason to think this has changed, or will change after the election, as Clinton knows.
Clinton would do better to focus on restoring competition to the state marketplaces and luring healthier individuals to sign up. One way she could do this is by pressing Congress to renew a government reinsurance program that is about to expire.
Reinsurance offsets plans' losses on their highest-cost customers. The program is funded with fees collected from insurers and corporate and union health plans. The fees are distributed to insurers with the heaviest costs (because their enrollees turned out to be sicker). Reinsurance is how Obamacare prevented insurers from scaring away potential enrollees with expensive premiums in the early years.
Clinton also needs to figure out how to persuade more -- and healthier -- enrollees to sign up. This would let insurers balance the higher costs associated with sicker people with the lower expenses of healthier ones. More generous tax credits would be the simplest fix, but it's not the only one.
She could use a stick by raising the tax penalty ($695 per adult and $348 per child, up to $2,085 for a family) for failing to obtain insurance. Or she could offer a carrot by improving Obamacare's benefits package with prescription-drug coverage, which could be hugely popular among young adults.
One Clinton idea that sounds sensible but hard to pull off would give near-retirees the option to buy into Medicare. Because many in the 50-to-65 age group are big medical consumers yet earn too much to qualify for tax credits, their premiums and out-of-pocket costs might be prohibitively high.
Besides, Medicare has its own complexity and affordability issues -- and isn't even compatible with Obamacare. For example, Medicare has three separate programs for hospitalization (Part A), physician care (Part B) and drugs (Part D), each of which charges premiums, deductibles and co-payments that could exceed what Obamacare costs. Many Medicare beneficiaries purchase insurance just to cover steep out-of-pocket costs.
And there's the political roadblock: A Medicare opt-in would be portrayed as a public-option-lite.  
A Century Foundation report lists many other solutions, the strongest being to correct the so-called family glitch. The law prevents subsidies from going to individuals whose employers offer health insurance that costs less than about 10 percent of their income. But a lower standard should apply when the coverage is needed for an entire family, not just a single person.
One of the easiest fixes -- persuade Republican governors to accept federal Medicaid expansion funds -- probably won't happen, despite a federal study in August that concluded premiums were 7 percent lower in Medicaid-expansion states.
It's important to say that Obamacare isn't in any death spiral, as some conservatives claim. More than 20 million Americans are no longer uninsured. The number without insurance is the lowest ever, at about 9 percent of the population.
The law has also slowed health-care cost increases to the lowest in a half-century, bringing down Medicare and Medicaid costs, too.
And because more than 80 percent of exchange-plan enrollees are subsidized through tax credits, which rise along with premiums, their monthly costs won't change much.
Obamacare has problems, but a lot is right about it, too. The mistake Clinton made in 1993-94 was to upend the health-care coverage of millions of people who were perfectly content with their employer- or government-provided plans. If she becomes the next president, she is unlikely to make the same mistake again.  
To contact the author of this story:
Paula Dwyer at pdwyer11@bloomberg.net
To contact the editor responsible for this story:
Katy Roberts at kroberts29@bloomberg.net
Before it's here, it's on the Bloomberg Terminal.
LEARN MORE