Finance
Europe's Banks Think They're Incredibly Safe
They see themselves as having the world's least risky assets. Regulators don't buy it.
by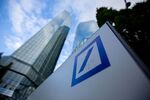 Given the parlous state of Europe's economy, it's hard to imagine that the investments of the region's banks are among the safest in the world. Yet that is precisely what they would have regulators and investors believe.
The banks' safety has come into the spotlight as European officials -- including German Finance Minister Wolfgang Schaeuble and European Commission financial-services chief Valdis Dombrovskis -- battle with global regulators over requirements for capital, the layer of loss-absorbing financing that prevents bad investments from turning into system-wide disasters.
The dispute involves risk-weighting, a process in which the largest and most sophisticated banks assess the riskiness of their assets to figure out how much capital they need. A loan to a struggling company might require a lot, safe government bonds none at all. Less capital means more leverage, which in good times boosts measures of profitability such as return on equity. Hence, banks have an incentive to make their assets look as safe as possible.
Europe's banks have excelled in this minimizing endeavor. On average for eight of the euro area's most systemically important institutions, risk-weighted assets amounted to just 31 percent of total unweighted assets at the end of June -- as if about seven out of every 10 euros in investments were risk-free. For Germany's Deutsche Bank, among the world's most thinly capitalized, the ratio was just 22 percent. That compares with averages 1 of 35 percent and 45 percent for the largest U.K. and U.S. banks, respectively. Here's how that looks:
To be sure, lower risk weights could mean that Europe's banks actually do have safer assets. There's plenty of evidence, though, to suggest this isn't the case. The International Monetary Fund estimates that banks in the euro area are sitting on more than $1 trillion in bad loans. Also, markets place a much lower value on each euro of European banks' book assets than they do on each dollar of U.S. banks'.
It's thus good to see that the Basel Committee on Banking Supervision, which includes regulators from around the world, is considering putting limits on how low risk weights can go -- and not surprising that European banks and officials are complaining that this would amount to an increase in capital requirements. The regulators are right: Denial is no way to deal with risk.
To render U.S. and European banks comparable, I'm using estimates of total unweighted assets according to International Financial Reporting Standards, produced by Thomas Hoenig, vice chairman of the Federal Deposit Insurance Corp.
To contact the author of this story:
Mark Whitehouse at mwhitehouse1@bloomberg.net
To contact the editor responsible for this story:
James Greiff at jgreiff@bloomberg.net
Before it's here, it's on the Bloomberg Terminal.
LEARN MORE