view
What's the Matter With Kansas's Taxes?
A daily digest of opinions and analysis from Bloomberg View.
by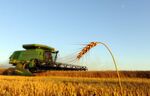 Why Tax Cuts Worked for Russia, But Not Kansas
Drastic cuts may have revived the Russian economy, but they wreaked havoc in the Sunflower State. Always one for a comparative study, Russian visitor Leonid Bershidsky finds that Kansas politicians cut taxes for the wrong reasons, with the wrong expectations, and in the wrong way.
The Fed Embraces a More Diverse Future
As the central bank takes a more hands-on approach to reducing racial disparities — both in the national economy and within the organization's ranks — Conor Sen says that will mean more focus on jobs and inequality, and less on inflation.
Growth Won't Save the World
Productivity gains are flat-lining in countries across the globe, and the reasons are both fundamental and intractable. Satyajit Das warns that companies and economies aren't inevitably going to grow better and faster — and worse, productivity gains may depress rather than boost growth.
John McCain Vows GOP Dysfunction Will Continue
By pledging to block any Clinton nominee to the Supreme Court, no matter how qualified, the Arizona Republican has shown how his party ended up with Trump at the top of the ticket. Jonathan Bernstein marvels at just how far down the rabbit hole has the national GOP has gone.
The Slow, Painful Death of Media's Cash Cow
Newspapers' move toward a digital strategy is either doomed or brilliant. It also wasn't much of a choice. Megan McArdle illustrates the papers' plight with the parable of the dying cash cow and the disruptive goat-herders. 
Ritholtz's Reads
Value investing got crushed during the internet bubble. Here's why (Alpha Architect)
Silicon Valley cozies up to Washington, outspending Wall Street 2-to-1 (Bloomberg)
What happens to an American myth when you take the driver out of it? (New York)
(Read Barry Ritholtz's full daily news roundup.)
Bloomberg Gadfly 
(Read more from BV's sister site for fast business commentary.)
Get Share the View every morning in your inbox. Click here to subscribe.
To contact the author of this story:

Before it's here, it's on the Bloomberg Terminal.
LEARN MORE