Federal Reserve
The Fed Embraces a More Diverse Future
That means more focus on jobs and inequality -- and less focus on inflation.
by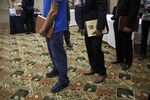 The Federal Reserve gave two indications last week that one of its next structural pushes will be toward incorporating more diversity into how it conducts its business. For a variety of reasons, this evolution is likely to lead to a monetary policy with a more dovish bias than the institution has had in the past.
The first sign came in the release of the minutes from the September Fed meeting. For the third meeting in a row, the Fed commented on racial unemployment disparities, pointing out that "the unemployment rates for African Americans and Hispanics remained above the rate for whites." The Fed also noted that for ages 25 to 64, the employment-to-population ratio was higher for whites than for blacks and Hispanics.
The second sign came in comments made by Minneapolis Fed President Neel Kashkari. "We cannot have confidence we are achieving maximum employment if we don't understand what's happening beneath the surface. ... Understanding the composition of maximum employment is actually very important to us achieving the mandate that Congress has given us," he said. Kashkari, whose parents immigrated to the U.S. from India, has previously said he will spend a day in the life of a struggling black family in order to better understand that experience.
This incorporation of demographic data in policy making isn't the only way the Fed is looking to account for diversity. The Fed has increasingly been criticized by congressional Democrats for a lack of diversity on its staff. None of the Fed's 12 regional branches has ever been led by a black or Hispanic president. Fed Chair Janet Yellen has pledged to increase diversity among the Fed's ranks as it looks for a new Atlanta Fed president. With Louisiana, Mississippi, Alabama and Georgia, the Atlanta Fed branch includes four of the six states with the highest proportion of blacks in the country.
This diversity push can be seen as the evolution of trends that began under Ben Bernanke. One of Bernanke's efforts was to increase communication at the Fed. Fed statements became longer and wordier, and the Fed began holding quarterly news conferences following its meetings, with accompanying economic projections. He also formally introduced an inflation target of 2 percent.
Yellen continued Bernanke's work to improve communication, and she also has sought to be more explicit about the various measures of data, particularly employment data, used to make monetary policy decisions. She often talks about both the official measure of the unemployment rate -- U3 -- and a broader measure of underemployment, U6, which takes into account discouraged workers and those working part time for economic reasons.
So it should be no surprise that the Fed has started talking more about diversity as it aims to paint a more complete picture of the economic landscape. While it may not be a near-term decision, at some point the Fed may decide to weigh in on what full employment looks like for different racial groups. Narayana Kocherlakota, my Bloomberg View colleague and former Minneapolis Fed president, has written about how over time the ratio between black unemployment and overall unemployment has been roughly 1.9. While the Fed may have no direct ability to do anything about this relationship, it may be less willing to call an overall unemployment rate of 4.5 to 5 percent full employment if it coincides with a black unemployment rate of 8.5 to 9 percent.
And while monetary policy making may not be a political process, the same cannot be said of appointments to the Fed. At the moment, the seven-seat Federal Reserve Board of Governors has two vacancies because the Republican-controlled Senate refuses to hold hearings for President Barack Obama's nominees. Should Hillary Clinton be elected president (as appears more probable than not at the moment) and have a Democratic-controlled Senate, it's likely that she will be urged by members of her party to appoint both female and nonwhite candidates who also are more concerned with wage growth and employment than inflation. Additionally, as those who remember the episodes of high inflation in the 1970s age out of leadership, it's likely that new appointees will be shaped more by the financial crisis of the late 2000s than an inflation experience that is less and less relevant to policy makers in their 40s and 50s.
The future looks to be one with a more diverse Fed concerned more with achieving full employment in a variety of ways and less on elevated inflation, a focus that increasingly appears to be a relic of history.
To contact the author of this story:
Conor Sen at csen9@bloomberg.net
To contact the editor responsible for this story:
Brooke Sample at bsample1@bloomberg.net
Before it's here, it's on the Bloomberg Terminal.
LEARN MORE