view
A Missed Opportunity for the GOP Establishment
A daily digest of opinions and analysis from Bloomberg View.
by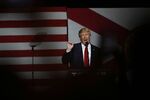 The Republican Who Might Have Stopped Trump
Not Marco Rubio. Not John Kasich. Not Ted Cruz. Instead, spare a thought for Mitt Romney, who, as Ramesh Ponnuru laments, had the best chance of saving his party from disaster in 2016.
Don't Fear Trump's Legal Threats. He'll Keep Losing.
The Republican nominee has a long list of lawsuits to his name, and now he says he'll go after the New York Times for its uncomplimentary reporting. But frivolous-Trump-litigation survivor Tim O'Brien says journalists don't need to worry about his saber-rattling. 
Market-Timing Works, But It Mucks Things Up
Research suggests "tactical asset allocation" can be effective for managers and investors alike, but it also creates volatility. Noah Smith explains why phantom bull and bear movements result when the herd tries to pick a top or bottom in the market.
Argentina's Macri Faces an Ugly Economic Dilemma
Will economic reform turn Argentina's poor into neoliberal roadkill? The country's populists say so, but reality is far more complicated. Mac Margolis examines how President Mauricio Macri can stanch the country's fiscal bleeding and stabilize its currency without triggering a backlash.
Twitter's Identity Crisis Gets in the Way of a Sale
No one has been willing to pony up $15 billion or so for the social-media giant, and Barry Ritholtz isn't surprised: Until Twitter finds a way to deal with its most aggressive trolls, potential customers will continue to flee. 
Ritholtz's Reads
Looking back at the end of a secular bear market (Irrelevant Investor)
Financial literacy is still abysmal everywhere (Real Time Economics)
Elon Musk's wild ride: Biographer Ashlee Vance examines the troubles at Tesla, SpaceX, and SolarCity (Bloomberg)
(Read Barry Ritholtz's full daily news roundup.)
Bloomberg Gadfly 
(Read more from BV's sister site for fast business commentary.)
Get Share the View every morning in your inbox. Click here to subscribe.
To contact the author of this story:

Before it's here, it's on the Bloomberg Terminal.
LEARN MORE