view
When Manufacturing Workers Loved Free Trade
A daily digest of opinions and analysis from Bloomberg View.
by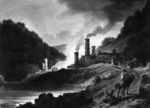 Globalization's Critics Were Once Its Champions
Economic integration and social justice don't have to be in conflict, as the early supporters of free trade understood. Victoria Bateman examines how the working-class forces that once advocated for globalization have become its fiercest opponents.
The Tangled History of Business-Loss Tax Write-Offs
Long before Donald Trump's $916 million tax gambit became front-page news, Depression-era Americans were outraged to learn J.P. Morgan Jr. had avoided taxes in much the same way. Stephen Mihm explains how a provision that started as a wartime exigency became the basis for a new philosophy of taxation (but didn't stay popular for long). 
The Right Way to End the Death Penalty
The American public is catching up with the rest of the world in opposing capital punishment, and Megan McArdle couldn't be happier. But, she warns, there's an effective way to campaign for abolition, and a way that would guarantee backlash.  
Kiddie MMA Bouts Test Putin's Hands-Off Approach to Chechnya
The Kremlin-appointed head of Chechnya has sparked outrage across Russia by making his preteen children brawl on television. Leonid Bershidsky says Vladimir Putin's response will shed light on his approach to the formerly rebellious region.
How to Fix the Presidential Debates: Make Them Reality TV
Seriously, Stephen Carter says: The most maligned of television genres, the competition show, would offer deeper insight into the candidates than today's half-baked debates do.  
Ritholtz's Reads
Deutsche Bank's $14 billion scare (Bloomberg)
Onetime housing skeptic plans $1 billion bet on homes (WSJ)
Biases affect professional investors just like the rest of us (Evidence-Based Investor)
(Read Barry Ritholtz's full daily news roundup.)
Bloomberg Gadfly 
(Read more from BV's sister site for fast business commentary.)
Get Share the View every morning in your inbox. Click here to subscribe.
To contact the author of this story:

Before it's here, it's on the Bloomberg Terminal.
LEARN MORE