view
We Still Need Truckers, for Now
Automation may eventually kill jobs, but the road to the future is winding.
by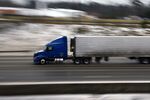 Someday soon, forward-looking people keep telling us, autonomous trucks are going to wipe out millions of jobs. Right now, though, some trucking companies are desperate for workers. As Bloomberg News's Patricia Laya wrote Thursday:
Getting a signing bonus is often associated with top young athletes. Now, taking a job driving a chemical truck in the U.S. can earn you a signing bonus of as much as $5,000 -- and then there are also recruiting bonuses, retention bonuses and safety bonuses.
This makes it a little hard to interpret the apparent plateauing of employment in the truck transportation sector since last year. In September, according to Friday's jobs report from the Bureau of Labor Statistics, trucking employment actually fell by 3,600. That's preliminary, doesn't account for much in an industry that employs almost 1.5 million people, and follows a nearly equivalent employment increase in August. But after a big post-recession comeback, employment in the industry hasn't really gone anywhere since mid-2015. Is this because the economy is slowing down, or because trucking companies can't find enough truckers?
Here's the long view on employment in truck transportation and in "couriers and messengers," which includes express delivery services such as FedEx:
These numbers are from the BLS establishment survey, which means they were reported by employers and include everybody who works at a trucking company, not just the drivers. That also means they don't include self-employed truck drivers or those who work for retailers, cement companies and such. Occupational data gathered from surveys of workers aren't as timely or fine-grained: We know that there were an estimated 1.7 million heavy truck and tractor-trailer drivers and 826,510 light truck or delivery services drivers in May 2015, but for this September the most the BLS can tell us is that there were about 9.5 million people working in transportation and material moving occupations, down from 9.6 million in August but up from 9.4 million a year ago (and these data are pretty noisy so the changes may not mean anything).
Which brings us back to the less noisy and more detailed and timely establishment data. Here's what it shows about wages for non-management employees in the two industries above and in the private sector in general:
Truckers used to make a lot more money than the average worker and those at courier and messenger companies only a little less. Now trucker pay is slightly below average, and courier and messenger pay is way below average. Driving a truck has had the reputation of being the last good blue-collar job. But as manufacturing jobs disappeared (and manufacturing wages fell relative to the private-sector average), a growing supply of would-be truckers seems to have depressed wages for truck drivers. Or something like that -- obviously, other factors could be at work as well.
What we've got is a sector that:
Has added more than 200,000 jobs since the last recession, but none since last summer.
Complains of driver shortages.
Used to offer better-than-average wages, but now pays slightly below average, despite anecdotal evidence of signing bonuses and such.
May replace most of its employees with robots at some point down the road.
So go ahead and take that $5,000 signing bonus to drive a chemical truck, if you are so inclined. Just don't spend it -- except maybe on classes to learn how to do something other than drive a chemical truck.
To contact the author of this story:
Justin Fox at justinfox@bloomberg.net
To contact the editor responsible for this story:
Stacey Shick at sshick@bloomberg.net
Before it's here, it's on the Bloomberg Terminal.
LEARN MORE