U.K.
Currency Vigilantes Pound on Post-Brexit Sterling
Currencies are like share prices for countries; and investors are betting against Britain.
by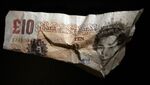 The Bank of England says it's "looking into" the reasons for the so-called flash crash that wiped more than 6 percent off the pound's value against the dollar. Reasons? How about a new (and effectively unelected) government that seems to disdain immigrants, the City and the policies of its independent central bank in almost equal measure?
The past few days have given a disturbing insight into what a post-Brexit Britain might look like. Companies obliged to draw up lists of how many foreigners they employ in an effort to secure "British jobs for British workers." London's status as the world's leading financial center and Britain's access to the European Union's single market sacrificed on the altar of curbing immigration. And Bank of England Governor Mark Carney castigated for hurting savers with record-low interest rates.
Just as share prices tell you about the financial health of companies, a currency serves as a barometer of what traders and investors think of a country's economy, its prospects versus its peers and, importantly, the quality of its management. The pound is telling us in no uncertain terms that whatever the recent U.K. data says, the international financial community is seriously worried about what Brexit and the Conservative government's exit negotiations will do to the economy.
Moreover, the overnight dip in the pound -- blamed variously on computer algorithms or so-called fat finger trades -- hasn't been fully reversed. The low of $1.1841 was brief; but the current value of about $1.2350 is far below the $1.27 level that prevailed at midday on Thursday, prior to the overnight excitement:

So the new game in town is guessing where the pound might eventually end up. Its average value this year before the June referendum on leaving the EU was about $1.44. But here's a chart showing how the pound's currently lowly value compares with its historical highs and lows, going back to 1971:

A sliding currency -- let's not call it a currency crisis, not just yet -- typically stokes faster inflation. And in the inflation swaps market, which many central bankers view as the best guide to inflation expectations, traders and investors are speculating on a surge ahead for consumer prices:
Granted, the prospect of faster inflation and a corresponding reactive rise in central bank interest rates should be good for a currency -- but not if the economy is getting trashed in the process. Economists polled by Bloomberg last month saw a 35 percent chance of a recession in the coming year. If growth slumps at the same time as inflation accelerates, stagflation becomes a risk for Britain. 
So the pound's current weakness may only be temporary -- that is, there may be worse ahead. All financial markets have a tendency to overshoot once they gain momentum; it doesn't seem too much of a stretch to wonder whether parity with the dollar might be in store for what one previous chancellor of the exchequer repeatedly called "the strong and stable pound."
To contact the author of this story:
Mark Gilbert at magilbert@bloomberg.net
To contact the editor responsible for this story:
Therese Raphael at traphael4@bloomberg.net
Before it's here, it's on the Bloomberg Terminal.
LEARN MORE