Sports
Sports Television May Have Peaked
Or maybe politics are just more engaging this year.
by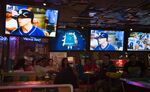 Amid the great upending 1  of entertainment industries enabled by broadband internet connections, televised sports have been mostly exempt. In fact, they gained ground as other genres succumbed to streaming, sharing and stealing (the title, if you take out the "and," of an interesting new book on the subject). Last year, according to an article in this week's Street & Smith's Sports Business Journal, 93 of the 100 top-rated shows on TV were sports events. In 2005, that was only 14 of 100.
Still, all good things must come to an end, and that very same Street & Smith's article 2 is mainly about big declines in sports TV audiences this year. The National Football League's flagship Sunday and Monday night broadcasts have seen viewership drop 10 percent and 19 percent so far this season. And while the football season is still young, Street & Smith's reports:
It's not just the NFL. The Summer Olympics on NBC were down double digits in viewership from the London Games. ESPN's "Sunday Night Baseball" posted its lowest viewership average in at least a decade. Six NASCAR races from Aug. 21 to Sept. 25 logged double-digit viewership drops in race-to-race comparisons. Four prime-time UFC telecasts on Fox registered a combined 10 percent viewership drop this year.
So is this it -- the moment when the sports business finally begins to succumb to the forces that have buffeted the rest of the media?
The TV executives quoted in the Street & Smith's piece all make the case that no, this is just noise. Sports have their ups and downs. Golf's audience rose and fell with the career of Tiger Woods. Basketball rose and fell with Michael Jordan, and appears to be experiencing a modest resurgence thanks to Stephen Curry -- with ratings for this year's NBA Finals the highest since 1998, when Jordan's Chicago Bulls completed their run of six titles in eight years. Also, all sports have had to compete this year with a wildly entertaining presidential election. When the first presidential debate and "Monday Night Football" went head-to-head last week, MNF lost badly, with its lowest viewership in 25 years. The cable news channels are having a great year; ESPN isn't.
That really could be most of the problem. Remember when scripted TV was dying? Now it's back, big-time -- although more and more of it is produced for streaming services, not conventional TV. This election isn't going to go on forever (please), and sports viewership will have its ups as well as downs in the future. Still, I can think of at least two other, less-reassuring possibilities.
Football has peaked. Perhaps the biggest news in U.S. spectator sports over the past quarter century has been the dominance of football, especially pro football. Here are the country's favorite sports through the years, as tracked by the Harris Poll:
I guess the NFL could just keep increasing its lead until 100 percent of Americans name it as their favorite sport, but given the growing concerns about football's adverse health effects on players, that actually seems less likely than an outright collapse. As Austin Murphy sketched out in a recent Sports Illustrated article, lawsuits and changing attitudes among parents could doom youth tackle football before long, starting a death spiral that would eventually consume even the NFL. And while I'm not going to bet on that happening, it seems undeniable that football faces a lot of downside risks. That presents opportunities for other sports, but in the process it may drag down the whole sports-TV edifice of which football is by far the biggest part.
Everything will be streamed. Here's a fun fact from Deloitte's most recent "Digital Democracy" survey: 19- to 25-year-olds in the U.S. now do 56 percent of their movie and television viewing on devices other than TVs (for 26- to 32-year-olds, it's 47 percent for movies and 46 percent for television shows). They are accustomed to getting their entertainment on demand, on any device. Live sports events, though they can be watched on all sorts of devices, are appointment viewing. There's a looming conflict here, and I would bet on millennials (and subsequent generations) eventually winning out. Live events would still have value, but audiences would be more dispersed in both time and space, and able to avail themselves of ever more entertainment alternatives. Sports leagues and broadcasters would inevitably lose market power.
Or so the digital media story usually goes. So far, of course, TV sports have followed a nearly opposite trajectory. Maybe, just maybe, this is the year when that starts to change.
This column does not necessarily reflect the opinion of the editorial board or Bloomberg LP and its owners.
Pretty proud of myself for not using "disruption" there. Although I guess I've ruined it with this footnote.

My normal practice of referring to articles by their authors' names is being thwarted here by a triple byline: John Ourand, Austin Karp and Daniel Kaplan. Also, thanks to Bloomberg's Gerry Smith for pointing me to the piece.
To contact the author of this story:
Justin Fox at justinfox@bloomberg.net
To contact the editor responsible for this story:
Stacey Shick at sshick@bloomberg.net
Before it's here, it's on the Bloomberg Terminal.
LEARN MORE