view
Obama's Fierce Urgency of Forever
His second-term rhetoric takes the long view. Trump would bring it up short.
by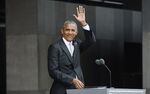 Barack Obama began his quest for the presidency speaking of the "fierce urgency of now." After more than seven years in office, Obama's urgency hasn't departed. But it has been tempered, and his vision has stretched in both directions, past and future.
His remarks last weekend celebrating the opening of the National Museum of African American History and Culture were a product of the long views he has acquired in the White House. The speech is a companion to one he delivered in March 2015 celebrating the 50th anniversary of the marches from Selma to Montgomery.
Like the Selma speech, it picked up black history in all its sprawling, messy complexity and moved it from the margins to the center of the American story. Citing a stone on display in the museum, Obama said:
On top of this stone sits a historical marker, weathered by the ages and that marker reads "Gen. Andrew Jackson and Henry Clay spoke from this slave block during the year 1830." I want you to think about this. Consider what this artifact tells us about history, about how it's told and about what can be cast aside. On a stone where day after day for years, men and women were torn from their spouse or their child, shackled and bound and bought and sold and bid like cattle on a stone worn down by the tragedy of over a thousand bare feet.

For a long time the only thing we considered important, the singular thing we once chose to commemorate as history with a plaque were the unmemorable speeches of two powerful men. And that block I think explains why this museum is so necessary, because that same object reframed, put in context, tells us so much more.
Providing context has been a theme of Obama's second-term rhetoric, one he often ignored in his first term, with an uncertain re-election campaign looming. 
Even now, with no more races to run, Obama's comments are purposefully restrained. The "two powerful men" were white men who had owned slaves. To those bought and sold on the block, those were the only two facts that mattered. Yet Obama left those details outside the frame even as he moved the slaves to the center of the picture.  
The president pushes the national conscience, and shapes the national narrative, but gently.
The reason, of course, is to disarm the inevitable push-back. When in her speech at the 2016 Democratic National Convention Michelle Obama juxtaposed the slaves who built the White House with the family that now lives there, it was meant to convey the nation's triumph, building on the founders' vision of liberty so successfully that it overcame the founders' own blinkered limitations.
But that triumph continues to unnerve some. Her speech compelled pundit Bill O'Reilly to state that the slaves "were well-fed and had decent lodgings provided by the government." A sudden passion for historical accuracy would normally merit affirmation. But canards about the warm comforts of slavery are not devised in faithful service to history. 
In Selma, Alabama, President Obama said the conflict on the Edmund Pettus Bridge "was not a clash of armies, but a clash of wills; a contest to determine the true meaning of America." And in that monumental battle, he said, "the idea of a just America and a fair America, an inclusive America, and a generous America -- that idea ultimately triumphed."
That's the idea Donald Trump has targeted for destruction, as others did before him. Obama always stresses the moral victors, but the persistence of their foes shadows his rhetoric just as it shadowed his presidency. "If Selma taught us anything," Obama said there, "it's that our work is never done."
In dedicating the museum last weekend, Obama said that "our glory derives not just from our most obvious triumphs but how we've wrested triumph from tragedy and how we've been able to remake ourselves again and again and again, in accordance with our highest ideals."
Again and again and again is the unvarying cycle of struggle for human rights and dignity. It's also the rhythm of democratic elections. We go back to the voting booth again and again and again to reaffirm or discard, embrace or repel. Obama's long view can sustain a hit at the polls this November, and eventually recover. But there would be a fierce and urgent hell to pay for now.
To contact the author of this story:
Francis Wilkinson at fwilkinson1@bloomberg.net
To contact the editor responsible for this story:
Katy Roberts at kroberts29@bloomberg.net
Before it's here, it's on the Bloomberg Terminal.
LEARN MORE