U.K.
Don't Gamble With the City of London's Fortunes
As it negotiates Brexit, Britain must be careful not to sacrifice its most valuable -- and vulnerable -- asset.
by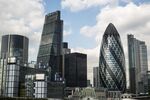 The post-Brexit battle for Europe's capital markets business has already started, even before official exit negotiations have been triggered. Bloomberg News reported Thursday that London's biggest investment banks seem resigned to losing the $570 billion market for clearing trades of euro-denominated derivatives. Some London-based banks want Theresa May's government to strike an interim deal to protect financial services now. It's not clear how that would work, but one thing is clear: Every time the government repeats its desire to curb immigration, it sends a signal to Europe that everything else is up for grabs — including London's preeminence in financial services.