view
Writing a New Rulebook for Self-Driving Cars
A daily digest of opinions and analysis from Bloomberg View.
by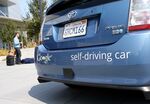 Set Autonomous Vehicles Free
Too many rules could stop the driverless revolution in its tracks, but Asimov's Three Laws of Robotics simply aren't enough for the burgeoning new industry. The Bloomberg View editorial board applauds U.S. regulators for striking the right balance on autonomous vehicles: restrained, but not restrictive.
Let's Think Again About Dodd-Frank
Six years after Barack Obama signed the landmark financial reform into law, evidence is emerging that it slowed the recovery without making banking safer. Tyler Cowen takes stock of some discouraging new data.
Let the Debates Begin, No Referee Required
With the first presidential debate less than a week away, Jonathan Bernstein says Americans can relax about the moderators' fact-checking skills: The truth will come out in due course.
An Ex-Republican in Iowa Tells All
Almost every conservative politician in the Hawkeye State eventually got aboard the Trump train -- but one jumped off. Francis Wilkinson speaks with the veteran Iowa lawmaker who took a stand on principle (and found himself shunned by the GOP establishment for his troubles).
Martha Stewart's Chinese Dream
The American lifestyle icon hardly registers in China, but e-commerce goliath Alibaba is betting Martha Stewart can make her mark on the homes and kitchens of the country's rising middle class. Adam Minter asks: Will it be a good thing?
More Bad News for Britain's Beer Drinkers
Traditional pubs are closing, barley prices are skyrocketing, and global mega-brewers are on the rise. You might want to pour yourself a glass before reading Mark Gilbert's latest dispatch from the U.K.'s bar scene.
Ritholtz's Reads
The iPhone's new chip should worry Intel (The Verge) 
Lost track of an old 401(k)? Here's a plan to help you find your money (Bloomberg)
Price-gouging and the dangerous new breed of pharma companies (Harvard Business Review)
(Read Barry Ritholtz's full daily news roundup.)
Bloomberg Gadfly 
Get Share the View every morning in your inbox. Click here to subscribe.
To contact the author of this story:

Before it's here, it's on the Bloomberg Terminal.
LEARN MORE