Federal Reserve
Five Charts Show Fed Should Stand Pat on Rates
The economy, the inflation outlook, the money markets and the need to stay credible all argue against a Fed move.
by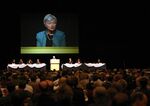 The consensus forecast among economists and traders is that the Federal Reserve will leave monetary policy unchanged when its meeting ends later today. Here are five charts showing why Fed Chair Janet Yellen and her colleagues would be wrong to spring a surprise interest-rate increase on the world.
FORWARD GUIDANCE IS DEAD AND BURIED
"I know you think you understand what you thought I said, but I'm not sure you realize that what you heard is not what I meant." We've come a long way since that quote, widely attributed to former Fed chair Alan Greenspan, basically summarized how central banks communicated (or rather didn't communicate) with their parishes. But the so-called forward guidance policy that's supposed to give businesses and consumers certainty about the direction and speed of borrowing costs is failing.
Just two of the 23 commercial banks that deal directly with the Fed in the bond market said they expected a hike, with both Barclays and BNP Paribas warning that traders were underestimating the likelihood. The futures market puts the odds of a Wednesday rate increase at about 22 percent. Here's how expectations have diminished in the past month:
Fed Vice Chair Stanley Fischer said last month that Yellen's Jackson Hole comments were consistent with two hikes this year. His San Francisco colleague John Williams said on Aug. 18 that "it makes sense to get back to a pace of gradual rate increases, preferably sooner rather than later." Other Fed officials including Loretta Mester and Jeffrey Lacker echoed those sentiments.
Yet Lael Brainard, the final Fed policy maker to speak before the purdah for today's meeting, said on Sept. 12 that the absence of inflationary pressures meant "the case to tighten policy preemptively is less compelling," and called for "prudence" when hiking rates. That one comment did most of the work in damping expectations for any action today.
Forward guidance doesn't mean the Fed can't leave itself wiggle room, or that its members can't dissent and disagree -- but some level of consistency is required. If it shocks the system with a hike today, it will destroy any remaining faith in its ability to communicate with financial markets.
IT'S THE ECONOMY, STUPID (PART I)
The Fed introduced its first increase in borrowing costs in almost a decade in December. The U.S. grew at an average pace of 2.6 percent in 2015 (based on the quarterly year-on-year figures), up from 2.4 percent in 2014 and 1.6 percent in 2013. 
Growth in the first quarter of this year, however, was back down to that 1.6 percent level; in the second quarter, it deteriorated even further, to 1.2 percent. And the likelihood of a slump back into recession has doubled in recent months, according to the consensus view of economists, and is back to where it was at the beginning of 2013:
IT'S THE ECONOMY, STUPID (PART II)
The current confused state of the global economy makes it even easier than usual to cherry pick the U.S. statistics to prove that growth is robust, stagnant or declining, depending on your own prejudices. Optimistic? Cite the 4.9 percent jobless rate, or the recovery in wage growth in recent months. Pessimistic? Housing starts collapsed by almost 6 percent last month, retail sales dropped 0.3 percent, industrial production declined by 0.4 percent and manufacturing contracted.
Given the conflicting evidence, a better barometer than the actual number might be how outcomes are comparing with expectations. Citigroup compiles just such a dataset; it suggests that positive surprises peaked in the middle of the year, but that negativity has set in since then:
THE WHITES OF INFLATION'S EYES
"Only raise U.S. rates when the whites of inflation's eyes are visible," Larry Summers wrote in February 2015. When the Fed tightened policy at the end of last year, consumer prices were rising at an annual pace of about 0.7 percent, after averaging 0.1 percent for 2015. The average pace of inflation so far this year is 1 percent -- half the Fed's target -- and economists surveyed by Bloomberg News don't expect it to surpass 2 percent until the first quarter of next year: 
There's a strong case to be made that since consumer prices have been so weak for so long, the Fed should let inflation spend some time above its target rate, rather than trying to either stamp on it as soon as it accelerates, or pre-empt that move by tightening policy before it even gets there. 
THE MARKET HAS ALREADY TIGHTENED POLICY WITHOUT THE FED
The Federal funds rate is the short-term interest targeted by the U.S. central bank; its current policy is to keep the rate in a range between 0.25 percent and 0.5 percent. But the borrowing costs actually paid by consumers and companies are much more influenced by something called the London Interbank Offered Rate, which is the rate at which banks lend to each other. And that rate has been surging for most of this year: 
The reasons for the increase are to do with a change in the rules governing money-market funds (click here for more on the background to that). The effect, though, is that monetary conditions have already been tightened without Fed action.
"If the Fed is thinking about raising rates to cool down the economy, well, the fact is it's already happened," Torsten Slok, the international economist for Deutsche Bank AG in New York, told Bloomberg's Eliza Ronalds-Hannon this week. "It confirms it's not a good idea to hike rates." He's right.
To contact the author of this story:
Mark Gilbert at magilbert@bloomberg.net
To contact the editor responsible for this story:
Therese Raphael at traphael4@bloomberg.net
Before it's here, it's on the Bloomberg Terminal.
LEARN MORE