Share the View
Congress: Take a Stand for the TPP
A daily digest of opinions and analysis from Bloomberg View.
by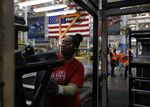 Help American Workers. Pass the Trans-Pacific Partnership.
The disputed free-trade deal represents a test of U.S. leadership, Michael Bloomberg and Thomas J. Donohue write: Lawmakers can boost America's economy and standing in the world, or they can cave to pressure and abandon the 12-nation pact. Let's hope they choose to lead.
The Coming Backlash Against Tech Companies
The more powerful and influential an industry becomes, the harsher people are when it stumbles. Wall Street had its turn in the glare of populist wrath, and Conor Sen says Silicon Valley's is next.
Turns Out Oil Prices Don't Matter (At Least in One Country)
You might have thought otherwise, but recent research shows falling oil prices haven't affected U.S. gross domestic product at all. Why not? Megan McArdle says rising domestic production is upending our expectations. 
Trump Liberates Republicans From Litmus Tests
For better or for worse, Donald Trump has given his party license to break loose of conservative orthodoxy. Ramesh Ponnuru considers how his endless flip-flops could presage an anything-goes GOP.
Ritholtz's Reads
(Read Barry Ritholtz's full daily news roundup.)
Bloomberg Gadfly 
(Read more from BV's sister site for fast business commentary.)
Get Share the View every morning in your inbox. Click here to subscribe.
To contact the author of this story:

Before it's here, it's on the Bloomberg Terminal.
LEARN MORE