U.K.
Don't Believe the Good Economic News About Brexit
Even if there's no recession, the damage will be heavy and long-lasting.
by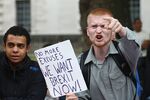 With the arrival of positive manufacturing and services reports from the U.K., it seems that the British economy is doing fine. There's dwindling talk of a recession caused by the vote the leave the European Union, and British politicians are wondering if a "hard Brexit" option –rapid withdrawal from Europe without a new trade agreement – might be feasible.