view
In This Ohio County, Republicans Are All In for Trump
Party regulars in Ottawa County like their nominee, even if John Kasich and other state bigwigs do not.
by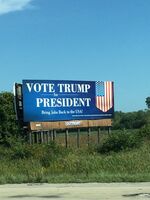 Over the past half-century, few places have been more in sync with American presidential politics than Ottawa County, Ohio. Located southeast of Toledo, the county runs along the southwestern shore of Lake Erie, encompassing resort towns along the lake as well as farmland to the west.
Its population of 41,000 is almost entirely white, which is no longer representative of a nation that's about 38 percent nonwhite, and it has fewer college graduates than the national average. But its median household income, at around $54,000, is smack in the middle of the American income curve.
The county has had an uncanny streak of picking presidents that goes all the way back to Lyndon Johnson in 1964. In the 2012 election, Barack Obama and Mitt Romney received nearly identical shares of the vote in Ottawa County that they did nationally, with Obama winning the county, 51-47.
This year, local Republicans are trying to win the county while the state's Republican governor, John Kasich, has all but renounced the party's presidential nominee. Kasich is one of many Republican leaders, including multiple Bushes, Mitt Romney, and Senators Ted Cruz, Jeff Flake and Lindsey Graham, who have been signaling -- loudly, clearly -- that Donald Trump is not merely something new in American politics. He's a nominee so deeply flawed that he doesn't deserve the support that each routinely delivered to every other Republican nominee throughout their careers.
In Ohio, the governor's top advisers and operatives have been largely unavailable to the Trump campaign. Former Republican Governor Bob Taft has been openly disdainful of Trump, and former Republican Attorney General Betty Montgomery has said she can't vote for him.
The signals from elite Republicans couldn't be more striking. But in this swing county in this swing state, they seem to be having little impact on Republican regulars.
With just a few key words, Ottawa County Republican Chair Carolyn Adams stakes her claim to membership in her party. "I believe in less government," she said over mugs of tea at the Ala Carte Cafe in Port Clinton, the county seat. "I'm not a big fan of government interference. And the taxes -- my God almighty."
If Trump lacks fealty to bedrock conservative principles, Adams hasn't noticed. She describes herself, her volunteers and her county GOP organization as "all in" for the nominee. "What I see is the nation spoke," she said. "Donald Trump won with more delegates. He is the nominee."
Adams, who supported Kasich in the primary, has been vexed by the governor's unwillingness to rally to Trump. "I think there's going to be fallout," she said. "Across the state of Ohio, you see Republicans who are not happy with the governor."
Jill Stinebaugh, a former nurse-paralegal who heads the Ottawa County Republican Women's Club, supported Ted Cruz in the primary. Like Adams, she's a hard-core Trump backer now. She said the more than 50 members of her group are similarly inclined. "There hasn't been a lot of conflict over that," she said. "We're supporting the nominee."
Trump, she said, is attracting new people to the local party. Last year, "I started to see this Donald Trump phenomenon at the Ottawa County Fair," she recalled. "They were already clamoring for Donald Trump signs in July 2015."
Port Clinton Mayor Hugh Wheeler Jr. views his election last November as a harbinger for a Trump victory in the county. A political newcomer who describes himself as a "hardworking blue-collar worker," Wheeler, an independent, defeated an incumbent Democrat by a margin of almost 2-to-1. "That was the start of the turnaround against career politicians," Wheeler said.
For an outsider looking in, life seems pretty good in Port Clinton, which calls itself the "Walleye Capital of the World." The perch and walleye were plentiful in Lake Erie this summer. The tourists on whom the town depends came through. (Port Clinton's population swells by tens of thousands in summer.) Wheeler says the federal government and the state have been doing an excellent job managing the algae that threatens the lake, which is Port Clinton's chief attraction.
Despite a placid surface, an undercurrent of disaffection runs through here. Kasich, Taft and other elites may be flashing bright warning signs about the Republican nominee, but local conservatives aren't in the mood to heed them. "I support Trump," Wheeler said. "I believe Trump is going to make it."
To contact the author of this story:
Francis Wilkinson at fwilkinson1@bloomberg.net
To contact the editor responsible for this story:
Katy Roberts at kroberts29@bloomberg.net
Before it's here, it's on the Bloomberg Terminal.
LEARN MORE