view
Reason for (Extremely) Cautious Optimism in Syria
A daily digest of opinions and analysis from Bloomberg View.
by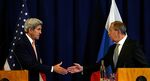 In Syria, a Truce But Little Trust
This weekend, after 10 months of negotiations, Russia and the U.S. announced a plan to reduce civilian casualties in war-torn Syria -- and to jointly target Islamic extremists. While a cease-fire may seem like a step forward in a conflict where some 500,000 people have died over the past five years, Leonid Bershidsky warns that without a vision for a postwar Syria, attempts at cooperation are fraught with risks. Meanwhile, Eli Lake notes with surprise that the deal isn't too far removed from Donald Trump's policy proposals.
The 'Silent Vote' Won't Carry Trump to the White House
With Trump trailing Hillary Clinton by a slim margin in the polls (and that was before before her health scare this weekend), some pundits wonder whether a "silent minority" of voters could propel the GOP candidate to victory. Don't bet on it, Albert R. Hunt says: While some Republicans may hide their support of Trump to pollsters, it's still not enough for him to win.
The Great Debate: What Should Government Do to Boost Growth?
Fiscal stimulus can work -- the trick is knowing when distortions offset the gains. Economists Tyler Cowen and Noah Smith try to get to the bottom of the issue (by way of infrastructure spending, video games and free lunches).
Immigration Policy for a Post-Brexit Britain
The U.K.'s Conservative Party has pledged to bring net migration down to "tens of thousands" a year -- a dramatic decline from last year's 327,000, and one that would wreak havoc on the economy. The Bloomberg View editorial board argues that if Prime Minister Theresa May wants what's best for Britain, she'll have no choice but to disappoint some voters on immigration.  
Ritholtz's Reads
Yuval Noah Harari's "Homo Deus," and how data will destroy human freedom (The Guardian)
Dear Mark Zuckerberg: I shall not comply with your requirement to remove this picture (Aftenposten)
Marketing ditties once had a distinctive, hokey sound, but advertisers have ditched them for standard pop songs. What killed the jingle?  (The Atlantic)
(Read Barry Ritholtz's full daily news roundup.)
Get Share the View every morning in your inbox. Click here to subscribe.
To contact the author of this story:

Before it's here, it's on the Bloomberg Terminal.
LEARN MORE