Europe
German Taxpayers Get an Early Christmas Present
Tax cuts are a testament to the country's economic success.
by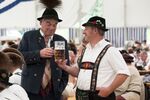 Those Americans whose hearts sink when they look at the national debt clock will go green with envy at the German one: it runs backwards. Faced with its fourth annual budget surplus in a row, tight-fisted Finance Minister Wolfgang Schaeuble is willing to grant Germans some tax relief, while at the same time increasing government spending. This isn't a sudden burst of generosity, though: It's electoral politics.
In the first half of this year, the federal government of Germany recorded a surplus of 9.7 billion euros ($11 billion) on revenues of 692.9 billion euros. This suggests that the year's total surplus will exceed last year's historic high. Government revenue from taxes and social contributions has grown consistently faster than expenditure. Germany's debt level keeps going down. 
Conventional wisdom sees Schaeuble as a beneficiary rather than the architect of this rarest of miracles. Germany has received a massive windfall from the European Central Bank's low interest rates: between 2008 and 2015, it reduced its debt servicing costs by a total of 122 billion euros, more than the sum of last three years' surpluses. Economists who dig a little deeper -- such as Christian Breuer at the Munich-based Ifo Institute for Economic Research -- have also mentioned the social security and pension reforms implemented before 2005, which allowed the current government to avoid increasing pension and unemployment benefit expenditure. These weren't Schaeuble's achievements, either -- rather, they helped bring down Gerhard Schroeder's Social Democratic government, which was trying to fix a seriously ill economy. 
Schaeuble, however, has had something to do with the surpluses. He has held on tightly to the purse strings, keeping down military and infrastructure spending and ignoring the government's capacity to borrow more at extremely low rates. Other European governments have also received debt-servicing windfalls thanks to the ECB's expansionary policies, but only the most prudent have resisted the temptation to borrow more. Others have seen their debt levels soar.
Even the more fiscally conservative countries such as the Netherlands, however, have not been able to take their budgets into surplus, although the ECB policies have helped improve budget balances everywhere.
Schaeuble has been fanatical about what Germans call the "black zero" -- a balanced budget -- not just because he is an old-school inflation hawk but because he distrusts the low interest rates. Not only does he consider them unsustainable, he sees them as a political danger: he has complained that they feed the political support of Germany's far-right, euroskeptic Alternative for Germany (AfD) party. Germans, his logic goes, have always been a nation of savers, but bank deposits have practically stopped bearing interest, and many ordinary Germans, especially older ones, blame the ECB for this and defect to the AfD.
For years, Schaeuble has acted as if the low rates did not exist while maximizing their benefits to the budget -- and to his center-right Christian Democratic Union party. Next year, there's a national election, and the CDU is at a popularity nadir because of the welcome that Chancellor Angela Merkel has extended to more than a million refugees. The policy has not dented the "black zero," but many Germans are scared of the influx, and that, too, makes them defect to the AfD, which beat the CDU in a recent regional election in Mecklenburg-West Pomerania. 
It must pain Schaeuble to no end to offer a tax cut, but he's willing to do his bit for the party. The concession he's offering is small, just 15 billion euros for next year. The idea is to smooth the so-called "cold progression" when a middle-class worker moves to a higher tax bracket, but, even with low inflation, ends up with a lower disposable income. At the same time, Germans are likely to get higher income-tax deductions for children and a slightly bigger child benefit. Employers will see a payroll-tax reduction.
This is a gentle reminder to disaffected voters that refugees or no, they have never had it so good. Germany is in fine economic shape under Merkel. Low unemployment and increasing tax revenues are perhaps even better evidence of that than the relatively lackluster economic growth data.
Vice Chancellor Sigmar Gabriel, who hopes his Social Democratic Party can snatch the lead from the CDU next year, has criticized Schaeuble's tax proposals, saying Germany would be better off spending the money to help the needy. "We shouldn't give people the impression that politicians in Berlin always have plenty of money when they need to bail out banks or help refugees," but when the less fortunate Germans ask for help, they hear, "Sorry, we've got no cash," he said.
This, of course, is naked electioneering. Germany is not stingy when it comes to social programs, but it's difficult to expect the CDU, as the leading party in the ruling coalition, to hand over the budget surplus to the poorest, who would never back it. Its electorate is the middle class. The coalition, which includes the Social Democrats, is likely to fall in behind the Schaeuble proposal during the budget debate under way now, because there aren't many reasonable alternatives.
Whether such a small tax cut can shake conservative Germans out of their immigration-induced funk remains to be seen. Merkel still faces an uphill battle despite a largely successful effort to keep the refugee influx from turning into a disaster. Schaeuble may yet get his recognition years later, just as Schroeder is getting his now for his painful and politically costly reforms. Once the interest rates start rising -- after all, they've been below zero before -- Germany will have a lower debt level and lower servicing costs than countries that have jumped at the chance to lever up. And Germans won't need to tighten their belts as much as they might eventually have to if the Merkel government went for bigger election-year handouts.
To contact the author of this story:
Leonid Bershidsky at lbershidsky@bloomberg.net
To contact the editor responsible for this story:
Therese Raphael at traphael4@bloomberg.net
Before it's here, it's on the Bloomberg Terminal.
LEARN MORE