Latin America
'Order and Progress' Remain Distant Hope for Brazil
There's no relief from shifty politics, backroom maneuvers and legal brinkmanship.
by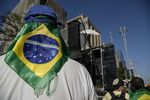 Whatever else you may think of fallen Brazilian leader Dilma Rousseff -- fiscal crook or putsch victim -- the end of her accident-prone presidency in an impeachment trial last week offered a glimmer of relief for one of Latin America's most conflicted nations.
Yet even as President Michel Temer flogs the new Brazil, as he did at last week's G-20 summit in Hangzhou, China, the more familiar Brazil of shifty politics, backroom maneuvers and legal brinkmanship rears its head.
Consider the bizarre conclusion to the almost nine-month impeachment process. On Aug. 31, the Senate found Rousseff guilty of manipulating the federal budget but -- in an eleventh-hour improvisation -- declined to strip her of her right to run for office or be nominated to a government job.
The split decision, engineered by Senate President Renan Calheiros and Rousseff's Workers Party cohorts, and approved by Supreme Court chief justice Ricardo Lewandowski, flew in the face of Brazil's highest law, which holds that an ousted head of state also forfeits all political rights for the following eight years.
It also threw out a lifeline to members of the political establishment caught up in the aggressive Car Wash investigation into fraud and graft at the state oil company Petrobras.
No sooner had Rousseff's trial ended than Delcidio Amaral, a onetime palace ally recently thrown out of the Senate in the Petrobras case, claimed he too deserved political clemency. All eyes are on Eduardo Cunha, the cagey former congressional speaker who allegedly took fat bribes from government suppliers, but wants a Rousseffian solution in case he, too, loses his right to hold political office.
(Thanks to Brazil's stricter campaign laws, bent lawmakers may not benefit from a similar political deal: Under the 2010 Clean Slate law, for example, any politicians convicted of a crime are automatically barred from seeking elected office.)
The larger concern is over the political precedent, and whether the sub rosa maneuvering behind the impeachment deal is merely a hint of what's to come. Two and half years running, Brazil's Car Wash probe has created fierce opposition, just as Italy's Clean Hands corruption mop-up provoked pushback from shady political bosses there in the early 1990s.
Five Brazilian political parties, including Temer's own Brazilian Democratic Movement, are pushing bills to dilute the investigation and shield suspects from the law, Brazilian political columnist Jose Casado has reported in O Globo. One amendment would bar prosecutors from offering plea bargain deals to any witness with a criminal record, a proposal whose Orwellian logic only a miscreant mind could love. (The Car Wash prosecutors have taken down dozens of nearly untouchable moguls and bureaucrats, thanks largely to testimony by 70 penitent criminals turned state witnesses).
The Supreme Court also may overturn a recent ruling that orders the immediate jailing of anyone convicted on appeal. That would gladden Brazil's well-heeled crooks, who under the previous, more indulgent law called on clever lawyers to shower the courts with writs and appeals to keep them out of jail indefinitely, assuring them virtual impunity.
It's unclear how incoming chief justice Carmen Lucia, who replaces Lewandowski on Sept. 12, will manage the legal sand trap her predecessor left behind. The court could overrule the Senate decision on political rights and risk an institutional clash, look the other way and trample the Constitution, or order Rousseff to a retrial.
"Instead of easing political and institutional uncertainties, the impeachment ruling has created more judicial unpredictability," Joaquim Falcao, dean of the law school at the Getulio Vargas Foundation, told me.
Whatever the choice, this is lousy news for Brazilians, who are still bitterly divided by the drawn-out political battle and not yet reassured by official talk that Brazil's economy has hit bottom.
It's no better for the unloved Temer government, which took over promising order and progress, the slogan on the national flag. Unless the country's politicians and its highest courts come to their senses, Brazil runs the risk of seeing neither.
To contact the author of this story:
Mac Margolis at mmargolis14@bloomberg.net
To contact the editor responsible for this story:
James Gibney at jgibney5@bloomberg.net
Before it's here, it's on the Bloomberg Terminal.
LEARN MORE