Share the View
Is Putin Just Playing Dumb?
A daily digest of opinion and analysis from Bloomberg View.
by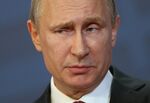 Vladimir Putin Doesn't Get U.S. Politics
Russia's president professes ignorance about the 2016 race. Is he bluffing? Leonid Berdshidsky says his claim could be an old intelligence officer's trick designed to distance himself from the DNC leaks -- but it likely reveals something more about Putin and Russian policy. (Need a primer on Putin? Click here.)
Gary Johnson's Unfair, Expensive National Sales Tax
The Libertarian presidential candidate has a big, bold idea: Replace the federal income, corporate and payroll taxes with a 28 percent sales tax. It sounds appealingly simple, but Ramesh Ponnuru warns the middle class would be hit hard, and evasion would be rampant.
What's the Best Way to Control Drug Prices? Competition 
When the price of a life-saving medical device quintuples in just a few years, the public and politicians take notice. But as Hillary Clinton moves to capitalize on the furor, calling for a federal panel to review drugmakers' price hikes, Megan McArdle says more regulation isn't the answer.
Escape From New York (and San Francisco)
Here's a prediction: Expect history to repeat, as Americans pour out of major cities and into the suburbs again. Conor Sen chalks the big-city boom up to a lagging national job market and risk aversion, and thinks it might not survive skyrocketing urban real-estate prices. 
Hollywood's Idea of a Blockbuster Is All Wrong
A "blockbuster" once meant more than just a big moneymaker, Stephen L. Carter says -- and tracing the history of the word reveals a better way to think about the movies.
Ritholtz's Reads
Why luck plays a big role in making you rich (Bloomberg)
Ten open questions for the techno-optimist (Digitopoly)
Apple's little-known, unglamorous secret to success: Supply chain (Re/Code)
(Read Barry Ritholtz's full daily news roundup.)
Bloomberg Gadfly 
(Read more from BV's sister site for fast business commentary.)
Get Share the View every morning in your inbox. Click here to subscribe.
To contact the author of this story:

Before it's here, it's on the Bloomberg Terminal.
LEARN MORE