Energy
A Sign That the Oil Bust Might Be Ending. Might.
It's only one month, but oil and gas extractors added jobs in August.
by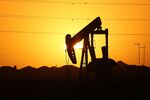 I really wouldn't make too much of this. The number is preliminary. It will be revised. It might just be statistical noise. Still, it does seem worth mentioning: According to Friday's jobs report, employment in oil and gas extraction in the U.S. rose in August after 12 straight months of decline (and 19 out of the last 21).
In case you were wondering, there isn't much of a seasonal adjustment for oil and gas employment, and the unadjusted number rose in August, too. It actually stopped falling in May.
It's important to note (yes, this column is full of caveats!) that since the early 2000s employment in the oil and gas business has shifted away from the companies that extract oil and gas to companies that provide services to the extractors. Employment in this sector -- support activities for oil and gas operations -- is reported with a one-month lag, so we don't know yet if it has stopped falling. It probably hasn't: The broader category of support activities for mining, which is about three-quarters oil and gas, lost 5,200 jobs in August. That was one of its smallest monthly losses of the year, though. And maybe the employment uptick in oil and gas extraction is a sign of better things to come. Or maybe not. Remember, one shouldn't make too much of one month of data.
Sixteen years and eight months of data are more likely to be informative. So here's a longer view of oil and gas employment:
The rise of hydraulic fracturing and horizontal drilling drove a big boom in oil and gas production (and employment) in North Dakota, Oklahoma, Pennsylvania, Texas and parts of a few other states. The collapse in oil prices that began in mid-2014 put an end to that, and by late last year concerns were rising that the oil bust might drag the rest of the economy down with it. In terms of sheer job numbers, or contribution to gross domestic product, it was hard to see how that could happen -- especially because lower oil prices are great news for the rest of the economy. There were also fears of debt defaults by smaller drillers bringing a financial crunch, which hasn't really happened, although now the big oil and gas companies are building up alarmingly large debt loads. If the price of crude falls below $20 a barrel, as A. Gary Shilling predicted here at Bloomberg View in June, that could bring lots more trouble for the oil business.
Still, since this spring the price of West Texas Intermediate has been oscillating between $40 and $50. And maybe, just maybe, a little bit of stability is returning to the oil patch.
To contact the author of this story:
Justin Fox at justinfox@bloomberg.net
To contact the editor responsible for this story:
Stacey Shick at sshick@bloomberg.net
Before it's here, it's on the Bloomberg Terminal.
LEARN MORE