China
What Are the U.S. and China Fighting Over?
Hint: It's not just about keeping shipping lanes open.
by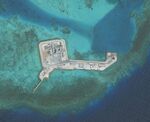 As the leaders of China and the U.S. meet in Hangzhou ahead of this weekend's Group of 20 summit, many would like to know whether differences over the South China Sea will cloud the bilateral relationship. The question is, what exactly are the two nations competing over in the area? And more importantly, can they find a mutually acceptable way to move forward?