Share the View
It Wasn't a Coup
A daily digest of opinions and analysis from Bloomberg View.
by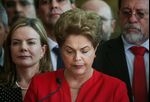 A Brazilian President Learns (Fiscal) Crime Doesn't Pay
Dilma Rousseff gained an ignominious distinction on Wednesday, when she became the second president impeached since Brazil transitioned to democracy in the 1980s. The Bloomberg View editorial board says the impeachment was a long time coming (and far from a coup), as it lays out the challenges facing a post-Dilma Brazil. Meanwhile, Mac Margolis notes with concern that as Brazil's politicians fall into disrepute, the judiciary is expanding its power.
Disadvantage Gives Mutual-Fund Managers an Advantage
A surprising new study suggests that fund managers born to families in America's poorest fifth out-earn those in the wealthiest fifth. Tyler Cowen considers why those born poor get better returns.
Finland's Flawed Basic-Income Experiment 
The Scandinavian country is handing out free money to people who might not even want it, and Leonid Bershidsky has an objection. No, they're not distorting the economy; they're just not giving out enough. 
Calling All Sociologists: The U.S. Needs You
When so many of America's problems have social causes, why do economists dominate the ranks of the country's public intellectuals? Take it from one of them, Noah Smith says: Economists don't know everything, and their traditional rivals, sociologists, can help fill the gap.
Ritholtz's Reads
What makes financial fraudsters tick? (Businessweek)
Here's why the pundits are wrong about Warren Buffett (Fortune)
Moody's issues first muni green bond assessment in U.S. (Bond Buyer)
(Read Barry Ritholtz's full daily news roundup.)
Bloomberg Gadfly 
(Read more from BV's sister site for fast business commentary.)
Get Share the View every morning in your inbox. Click here to subscribe.
To contact the author of this story:

Before it's here, it's on the Bloomberg Terminal.
LEARN MORE